Introduction
Data within your company is a strategic asset. It requires good administration, just like your money and client relations.
There are too many companies that lack interest in data security. Organizations frequently allow data governance to fall through the cracks. As an outcome, errors start to build up in different business systems. When vital data is disorganized, firms run the risk of being fined for breaking rules and paying more to store and manage redundant data, among other expenditures. Additionally, they lack faith in the accuracy of the data they are utilizing to guide their business decisions.
You require adequate Data Governance to reduce those dangers.
Deploying a data governance solution that works for your company and your anticipated business goals and objectives is crucial. That framework must be in control of the data standards essential for this journey in addition to defining the roles and responsibilities that must be assigned both inside your organization and in connection to the business environment in which your company operates.
At many levels within an organization, a very well data governance framework will support the business transformation toward functioning on a digital platform.
What is Data Governance?
It is a set of procedures, roles, policies, standards, and measurements to ensure the effective and efficient use of information in assisting an organization in achieving its objectives. It outlines the processes and job descriptions required to safeguard the security and accuracy of the data used inside a business or organization. It establishes who may act upon information, under what circumstances, and with what tools.
It ensures that responsibilities and accountability are established within the organization and that roles connected to data are clearly defined. Managerial, tactical, and operational duties are part of a well-planned data governance system's tasks and responsibilities.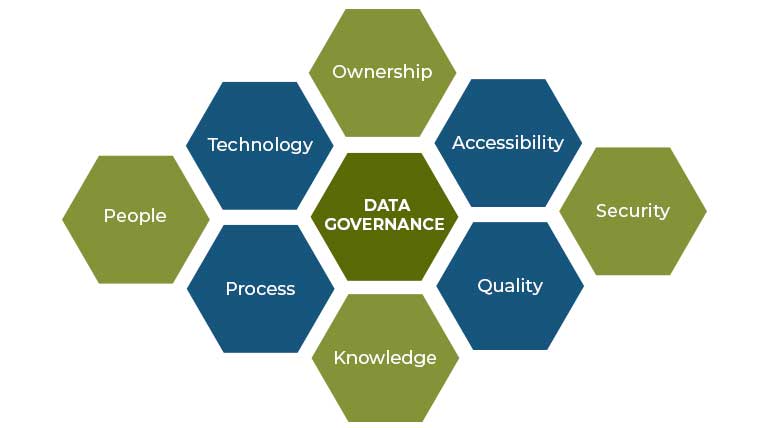 Data management and master data management are two concepts and ideas that are sometimes conflated with data governance.
Data Governance is Not Data Management
The administration of an organization's entire data lifecycle is referred to as data management. Data quality, references and master data management, data protection, database operations, metadata management, and data warehousing are some additional disciplines connected by the main component of data management, called data governance.
Data Governance is not Master Data Management
To improve the quality of the data, Master Data Management (MDM) focuses on identifying the essential entities inside an organization. It guarantees access to the most current and correct information about critical entities, such as clients, vendors, healthcare professionals, etc. Because such entities are shared throughout the enterprise, master data management—a discipline that goes beyond it—focuses on bringing disparate views of those entities together into a single perspective.
However, without sound governance, there can be no successful MDM. For instance, a data governance program will outline the data retention regulations, establish roles and responsibilities for data authorship, curation, and access, and master data models (what constitutes a customer, a product, etc.).
Benefits of Data Governance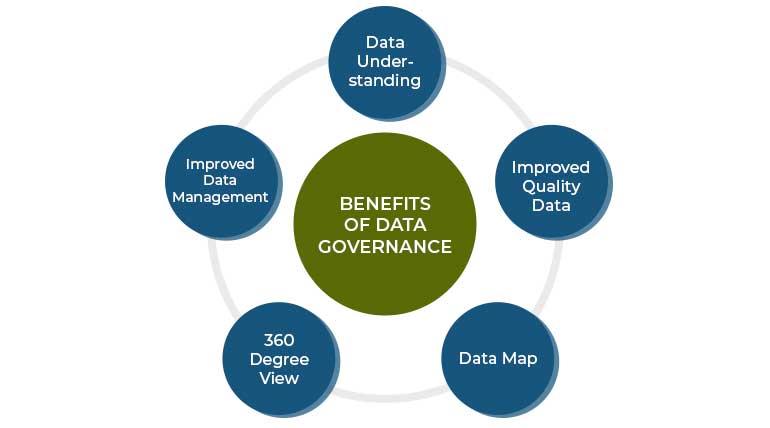 The key benefits of data governance are:   
A Common Understanding of Data: It offers a uniform perspective on data and a common language for discussing it while preserving flexibility for each unique business unit.
Improved Data Quality: It develops a strategy to guarantee data consistency, quality, and accuracy.
 Data Mapping: It offers a sophisticated ability to locate all data connected to essential entities, which is required for. Data governance makes data assets usable and integrates them with business objectives simpler, similar to how a GPS can represent a physical environment and assist individuals in navigating through trouble.
360-Degree View: An organization can agree on "a single version of the truth" for crucial business entities and keep good accuracy across entities and business activities with the help of data governance, which creates a 360-degree perspective of each user and other business entities.
Improved Data Management: In a fully automated, data-driven society, It add the human element. It provides behavioral guidelines and industry standards in data management, ensuring that issues and requirements outside typical data and technology domains are regularly handled. These are a few examples of the legal, security, and compliance domains.
Importance of Data Governance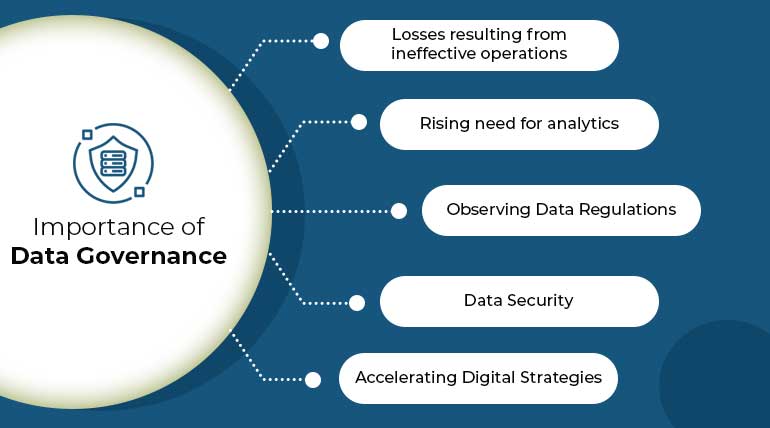 "Though something is important enough, you do it even when the chances are against you."
Let's look at what makes data governance a life-or-death issue.
1. Losses Resulting from Ineffective Operations: For business owners, inefficiencies can lead to significant issues. It is a trigger since it negatively affects a company's balance sheet. Losses to a corporation include money, time, work quality, and other factors.
2. Rising need for Analytics: Analytics is in trend. The most successful businesses consider data as a resource for analytics. Data has been used to the advantage and financial benefit of large organizations like Amazon and Google. Data-driven analytics is a top priority if we replicate these big businesses' success.
3. Observing Data Regulations: Lightning-fast data production and storage come with the burden of accountability. It's easy. You must adequately manage any third-party data for which you are accountable under the law.
4. Data Security: Data security is the method that ensures that all data is safe and that no illegal data access occurs; however, it is strongly tied to compliance.

5. Accelerating Digital Strategies: A business may benefit from data governance by ensuring that the data used to create digital strategies is of a high standard, readily available, pertinent, and timely. IT teams often handle these activities.
SQL Injection
Web hacking tactics are gaining popularity in today's expanding technology, especially those that can damage your apps. One such method that can harm data-driven systems is SQL Injection.
An attacker can read and access sensitive data from the database using the code-based vulnerability known as SQL Injection. Bypassing application security safeguards, attackers can use SQL queries to change, add, update, or remove records from a database. Successful SQL injection attacks can potentially damage websites or online applications that use relational databases like MySQL, Oracle, or SQL Server. SQL injection attacks have caused many security breaches in recent years.
Types of SQL Injection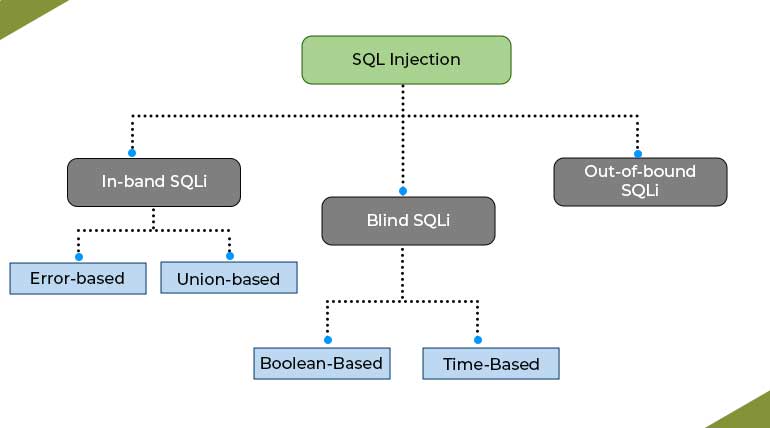 How is Data Governance Beneficial to your Organization?
More than merely risk reduction, It also generates enormous value for your organization.
The power of its decision-making based on data provides the overall value. All teams you're your organization, including those in development, finance, sales, marketing, manufacturing, and procurement, greatly benefit from data analytics.
The points given below will reflect the benefits of how Data Governance is beneficial to your organization.
1. One reference point for all of your data requirements.
Data scientists and engineers' productivity rises rapidly. Recovery of data can be completed in a matter of minutes rather than weeks. Data is kept in various places, including silos within specific departments or other databases. The organized data is visible from a particular source using a tool like a data catalog under data governance.
2. Security in Data Warehouse and Data Mart
It will help you establish security and privacy standards for integrated topic areas in the data warehouse/data mart.
3. Data quality
It ensures creating and enforcing data quality measures for analytical and business data.
4. Data Redundancy
It helps create suggestions to enhance optimal data reuse and eliminate data duplication in your organization.
5. Data Definitions
It will help your organization by establishing standard coding sets for common (master) data used in the warehouse, including suitable algorithms and computations, and creating definitions for master data (common data).
6. Decision Making
Data integration analysis is required to achieve the cross-application/cross-functional decision-making desired in a data warehouse, and Data Governance guides this.
7. Reduce the dangers of cybersecurity problems and data leaks
Employing a centralized data governance plan enables your business to reduce the risks associated with cybersecurity brought on by varying regulations. Management can identify current security concerns and establish a line of defense thanks to strong governance that identifies and records possible risks for data leakage into your organization.
To help your organization grow without taking unnecessary risks, Beyond Key aims to provide data governance with support from all your industry sectors.
How Beyond Key may assist your Company in Implementing Data Governance
Beyond Key will help you implement open-source, scalable solutions that can quickly and affordably integrate with your organization's current environment to identify your business's best data governance strategy.
A cloud-based platform will also enable you to connect easily to powerful capabilities that are affordable and simple to utilize. Additionally, cloud-based solutions do not require the overhead associated with on-site servers.
Your firm will get benefit in these ways from the data governance tools from Beyond Key.
Beyond Key help you in Using tools and capabilities to search, profiling, and benchmark, so you may capture and interpret your data. For instance, the appropriate technologies may instantly identify a piece of personal information, like a social security number, in a fresh data set and cause an alarm. By using Data Validation, Data Cleaning, and Data Enrichment, Beyond Key improves the quality of your data.
We assist you in Managing Your Data using metadata-driven ETL, ELT, and data integration apps, enabling end-to-end data lineage tracking and pipeline traceability.
This Managing of Data using tools helps constantly examine and keep an eye on things.
Beyond Key provides proper documentation for your data so that metadata may be added to it to improve its value, searchability, usability, likability, and compliance.
We guide in Self-service technologies to enable those most familiar with the data to participate in Data Stewardship Duties.
Beyond Key has expertise in data governance and offers practical cloud-based technologies that may assist your company in transitioning from passive data governance to active data governance. You can swiftly and efficiently meet your data governance with robust and simple-to-use solutions provided by Beyond Key for managing data quality, data and metadata, and data stewardship.
Conclusion

Beyond Key's Data Governance program might help you ensure that your business has access to accurate data in all of its departments and tasks. As part of a business intelligence/analytics initiative, a data governance program can help you:
Make better decisions.
Get rid of duplicate data.
Put together definitions and calculations.
Ensure data used in statutory and regulatory reporting is accurate and consistent
Makes your organization a leader in data management and use.
FAQs
1. How can Data Governance help businesses?
It enables businesses to reduce risk, enhance customer connections, and spend less time and money cleaning up incorrect data. Accessible, well-defined, and quality-controlled data increases an organization's likelihood of client acquisition by 23 times, customer retention by 6 times, and profitability by 19 times.
2. How is Data Governance put into practice?
Gaining a thorough grasp of your company's business strategy is the first step in adopting It. Determine the exact data items you'll need to fulfill your unique business goals and identify the specific business objectives that can be fulfilled with data. With this in mind, evaluate your current data and procedures to see where they might be improved, then start creating new rules in that direction.
3. What is meant by Data Governance Framework?
A cooperative framework for managing business data is known as data governance. The framework or method might impose strict limitations or flexible restrictions on data collection and management to help improve it.
4. What distinguishes Data Management from Data Governance?
Organizational strategies, rules, and processes are generally covered by data governance. It stipulates how data should really be handled. Data Management, in contrast, deals with the methods and technologies used to manage data and put Data Governance guidelines into effect.