This website uses cookies to ensure you get the best experience on our website.
Data migration services can be crucial if you are modernizing a legacy system to a new platform or if you've got a brand-new business application and want to integrate it with an existing system.
Every organization must deal with data migration, especially when it comes to complicated data integration processes. You need to ensure that before migration, you need to have a backup of your entire data so that you do not suffer data loss in case of an emergency. A seamless and secure process is essential.
Beyond Key has a dedicated team of data migration professionals for your migration needs. By identifying your requirements, setting flexible options, and planning a strategy that complies with compliance regulations, we can help you quickly and efficiently accomplish your goals.
Challenges of Data Migration
An unorganized state of data availability

When data is created from scratch, it may have multiple versions. Documents or files that have duplicate or incomplete data sets are usually the cause of messy situations. You should clean this data before moving to a new platform so it will be organized and neat.

Inadequate data protection

Especially at the organizational level, data loss is unavoidable when moving data. When data is lost, it's harder to rely on new information immediately. No matter how important a file is, you should have a backup, so you don't lose it.

Incorrectly formatted data

It is possible that a file is not compatible or has access controls if it has not been formatted before it is transferred. You can ensure files are formatted appropriately by checking the device's current settings and operating system.

Lack of collaboration among teams

Data migration services typically involves multiple people and technologies. During the transition, information may be lost. Implementing a platform that combines each stage's critical inputs and outputs will reduce errors and save time and money.
Our Data Migration Process
During data migration, we follow a standard procedure that includes the analysis, planning, migration, and post-migration phases.
Analysis
In collaboration with stakeholders, we define criteria for analyzing and evaluating data quality and discuss migration requirements.
01
Planning
Our team analyzes migration feasibility, develops test plans and strategies for automating migrations, and collects data cleansing, transformation, etc.
02
Migration
We extract, transform, and load data according to predefined patterns, which are further verified to verify migration success.
03
Post-migration
As part of our post-migration phase, we ensure that data is consistent, accurate, and suitable for the new repository.
04
How can Beyond Key help you migrate your data?
Our data migration services can help you with a project meant to help you move a lot of data from one system to another. Our company knows how to transfer data from legacy applications to the cloud, from legacy enterprise platforms to modernized solutions, from different approaches to a single database, and from on-premise to on-cloud.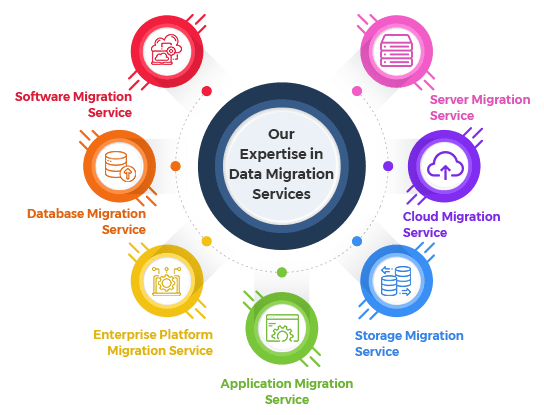 Best Practices for Data Migration
Plan and implement a clear migration strategy

Gain a better understanding of your data

Maintain a solid backup plan for your data

Ensure a strong, aligned data migration team

What you achieve in parallel to seamless migration
In today's business world, data is of significant importance since it affects the outcome of your business. We offer data migration services to help you make more of your data.

Maintaining data integrity with your departments and stakeholders. You can gain valuable insights from your business information with our solutions.

Reducing Costs Data that is organized and of high quality positively impacts various business areas and reduces operational costs.

Enhanced decision-making The right data organizes your decisions, allows you to create data-driven reports, and improves decision-making in your organization. It is our goal to assist you in migrating your data smoothly.

Innovating with digital technology: You can gain a competitive edge by implementing the latest data management and storage technologies. With the help of our specialists, we will develop a data migration strategy specifically designed for your business.