Searching for more insights on Dynamics 365 vs Business Central? Look no further. Dynamics 365 and Business Central are the same thing. In fact, Business Central is a part of the D365 platform. But there is a difference between Business Central and the CRM apps that are part of the Dynamics 365 "umbrella."
How is Business Central linked with Dynamics 365?
Dynamics 365 is mostly a line of smart Enterprise Resource Planning (ERP) and Customer Relationship Management (CRM) solutions. The apps included are:
The apps that are a component of the Microsoft Dynamics 365 Ecosystem are not all included in this list.
Although there are others too, these are the most well-liked. We left out some other apps to keep things clear and easy to understand.
Did it help clarify the difference between Dynamics 365 vs Business Central? We hope it worked because it's easy. 
The Microsoft Dynamics 365 line of products includes Dynamics 365 Business Central which is Microsoft's ERP solution, but "Microsoft Dynamics 365" refers to a larger group of applications.
What Is Microsoft Dynamics 365?
Microsoft Dynamics 365 helps mid-sized businesses make it easier for their customers, prospects, and team members to do business with them.
It has a group of cloud apps that can help with sales, operations, accounting, and other business tasks.
Dynamics 365 gives workers the tools to be more productive, improve customer relationships, and get more business.
Its business intelligence platform also gives executives helpful information about how things are going and what opportunities there are.
Because Dynamics 365 combines CRM and ERP, it's easy for companies to streamline how they talk to each other and their customers.
What is Microsoft Dynamics 365 Business Central?
The full potential of Microsoft Dynamics NAV is now accessible in the cloud, thanks to Microsoft Dynamics 365 Business Central.
A cloud-based, all-in-one company administration system is Microsoft Dynamics 365 Business Central. Customers can migrate from outdated ERP systems or basic accounting software to a single solution that can manage finances, operations, sales, and customer care. Helping businesses streamline their processes, improve their relationships with customers, and make room for growth by:
Solutions that are made to change over time. Get started quickly, grow and change in real-time with a flexible platform that makes it easy to go beyond Business Central as your business needs change.

Actionable insights are made possible by Microsoft's leading intelligent technologies. With connected data, business analytics, and guidance, you can do more and get a complete picture of your business.

Business without silos: connecting businesses and making them more efficient by automating tasks and workflows, all within the familiar Microsoft interface of programs like Word, Outlook, and Excel.
Know the difference between Dynamics 365 vs Business Central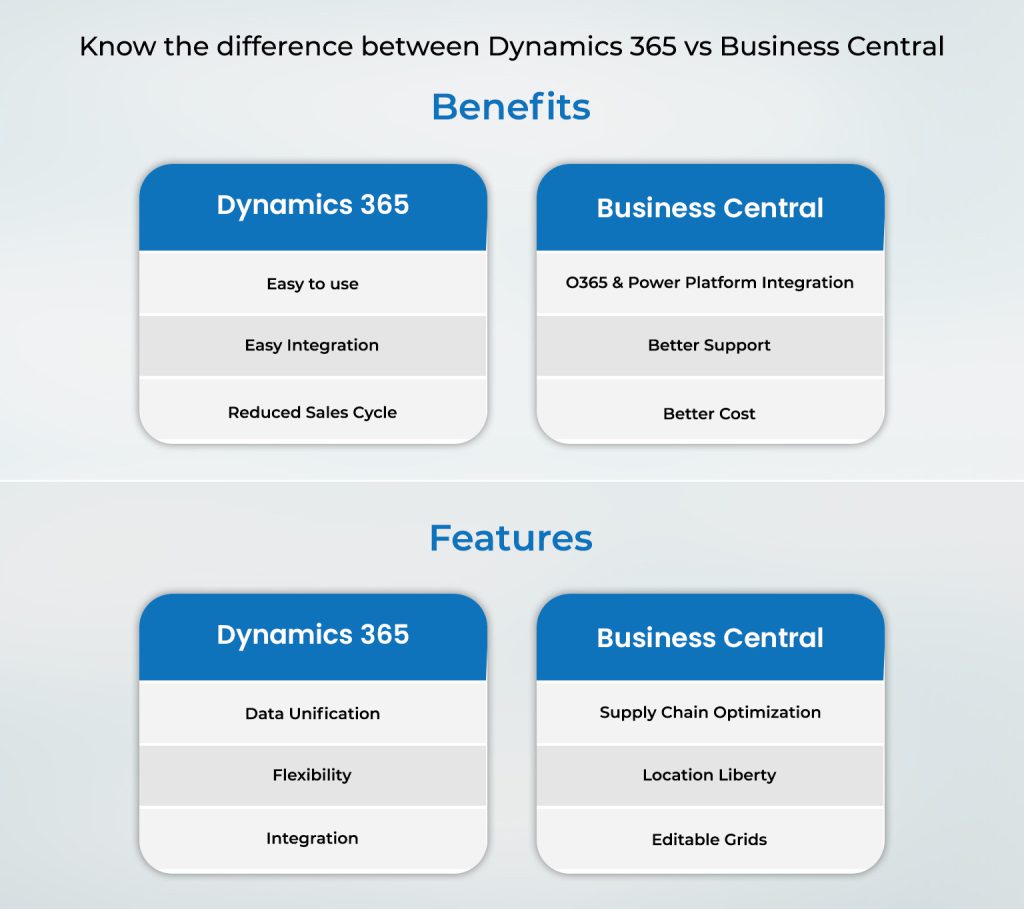 5 Benefits of Using Dynamics 365
There are a lot of CRM products on the market, so how do you know if Dynamics 365 is a better choice?
Here are five of the best things about Dynamics 365 to help you decide:
Microsoft Dynamics 365 is easy to use and set up: You can use it in the cloud or a hybrid cloud environment. It's easy to manage and set up in any way that fits your budget and infrastructure. Since Dynamics 365 is in the cloud, it's perfect for companies with a Bring Your Own Device (BYOD) policy. Employees can easily use Outlook, a web browser, or any mobile device to access their Dynamics 365 apps.
Integrates Easily With Other Microsoft Products: Dynamics 365 works well with other Microsoft products, like the Office 365 suite. Companies can move from Dynamics 365 to Outlook to communicate, to Power BI to analyze data, or to SharePoint to store documents. When it's easy to work and switch between apps, employees don't have to spend as much time moving data between apps and learning new platforms.
Reduced Sales Cycle: Dynamics 365 gives sales teams access to a lot of helpful information about customers, whether in the field or the office taking a call.
Your team can come up with quick answers and give information without saying, "Let me get back to you on that." And companies get a complete picture of each prospect's journey, which lets them make more targeted ways to sell.
Scalability: Dynamics 365 is easy to grow or shrink depending on the size of your team, your budget, and the amount of work you have. Dynamics 365, like most other cloud products from Microsoft, is based on a monthly subscription that is easy to change.
Increased Productivity: With Dynamics 365, your employees can access almost any information they need. This means they can work faster and spend less time looking for information. Employees can make better decisions by accessing all the necessary tools and information. Users can find everything they require on one platform instead of going to different places to use ERP, CRM, data, and Office apps.
Benefits of Business Central
Integration with Office 365 and Power Platform: With BC, you can be sure that your favorite apps, such as Office 365 and Teams, will work together. For example, the integration with Outlook makes it easy to make an offer and send it right from Outlook. You don't have to switch apps, which saves a lot of time. Your beverage business goes to a higher level when it's connected to the Power Platform. This is because all of your smart data tools, such as Power BI and Power Apps, work seamlessly. You can see your content right away in BC, giving you a complete picture of your business in real-time.
SaaS/Cloud: You can now get Business Central both on-premise and in the cloud! Software as a Service (SaaS) is becoming the norm, which is good in many ways. The most important one is to get updates! You can use the new features and updates immediately without paying anything extra. You also don't have to bother about infrastructure, server capabilities, or buying and setting up hardware.
Cost optimization: With SaaS apps like Business Central, you can lower your overall IT costs because they are easier to set up and maintain. Microsoft also made BC so that it can be changed to fit your needs. It is a complete platform you can switch to help you get more done. And it's easy to add applications that are specific to your industry. The monthly subscription model means that you don't have to make a significant investment upfront based on how many users you have. And because it is flexible, you can always add licenses. This lets your IT system grow with your business. Also, you won't waste much time because the process is quick.
Better support: Since add-ons and customizations are no longer built into the standard product, it is much easier to give your support. With updates to the cloud systems, you don't have to spend much time analyzing the changes in the new release. 
Let us quickly look at top 3 features of Dynamics 365
Data unification: Dynamics 365 combines many essential business applications into one place, making it easier for teams and departments to work together.
Flexibility: With MS Dynamics 365, you can make the tool fit your needs by changing how it works.
Integration: MS Dynamics 365 works well with other Microsoft tools because of how well it works with them. MS Dynamics 365 is easy for people who know how to use other Microsoft tools.
And 3 features of Business Central
Supply Chain Optimization: With built-in intelligence, Supply Chain Optimization can predict when it will be the fastest to restock the supply.
Location Liberty: You can run Business Central in the cloud, on-premises, or in a hybrid way to get a consistent experience across platforms.
Editable Grids: Go to Dynamics 365 Business Central and click "Active Accounts" to see a grid with all your contacts.
Conclusion
Still wondering which product will serve your business well? Trying to understand and get more insights on Microsoft Dynamics 365 and Business Central? You can get in touch with us here. We will ensure all your queries are resolved.