Today, the vast majority of organizations fail to fully realize the potential of their two most important resources: data and people. Additionally, the quantity and quality of data keep growing. Consider that in the past two years, 95% of the world's data has been produced. We are grateful. There would be "Lots of Data and No Insights" if Tableau didn't exist. This blog is just for you if you're thinking about hiring a Tableau Consultant. Learn about Tableau, the qualifications required for a Tableau consultant, how to get one, and how much it will cost.
We anticipate the challenge of integrating diverse data sources. When data fails to provide a compelling narrative, it damages.
Consider working with Beyond Key's Tableau consultant, which may assist you in developing, outpacing the competition, and planning to reach your objectives.
Let's go in deep what is Tableau and why you need Beyond Key Tableau Consultant.
What is Tableau?
Tableau is a leading data visualization platform used for business intelligence and data analysis. According to Gartner's Magic Quadrant, Tableau is a leader in business intelligence and analytics.
In June 2019, Salesforce acquired Tableau, which was established in the United States in 2003.
It helps users create a range of graphs, maps, dashboards, and stories with the goal of displaying and analyzing data to support corporate decision-making.
Tableau exhorts users to know and comprehend their data. You may access data that is accessible in Excel, CSV, etc. by connecting to it. or connect directly to your database.
You can build interactive dashboards in Tableau.
Tableau Products
Tableau has a wide range of products, each of which is divided into categories depending on features and functionality.

Why do you need Beyond Key Tableau Consultant?
The need for Tableau Consultant arises with transforming unstructured data into beautiful, simple-to-understand data visuals. With the help of their platform expertise, consultants assist firms utilizing Tableau in making the most of their data by visualizing it in a way that is understandable to staff members at all organizational levels.
In addition to this, Beyond Key's Tableau Consultants are frequently in charge of instructing other staff members on all things Tableau and are the initial point of contact for questions about data and data presentation inside an organization.
Beyond Key Tableau consultants are also masters of business intelligence, capable of creating long-lasting data solutions that are "support-free" (i.e., do not need manual repairing when Tableau publishes new updates) and creating fresh data models to aid staff in comprehending the data they are receiving.
Beyond Key Tableau Consultant may create "support-free" solutions that don't need ongoing manual maintenance or remediation as the data changes.
Beyond Key Tableau Consultants have expertise in creating data models, and writing SQL without the aid of an ETL tool, being a DBA is quite beneficial, and having familiarity with data warehouses is even better.
Beyond Key Tableau consultants are able to create solutions without the usage of flat files, excel, csv, or an odd dependency on outdated technology. They are also knowledgeable in using database connections and helping you display and comprehend your data.
Technical Skills Possessed by Beyond Key Tableau Consultant

1. Data Language Proficiency
The most important skill held by Beyond Key Tableau consultant is the ability to speak Data Language.
Beyond Key Tableau consultant is skilled at locating various data sources in order to assess insights from visual representations and the capacity to use various data gathering techniques to combine diverse data sources and build a data collection repository.
Have accurate understanding of data sets, data lakes, data warehouses, and data aggregation, practical knowledge of data modelling, data analysis, and data visualization.
2. Data Preparation and Analytics
Beyond Key Tableau Consultant is being able to locate all relevant data and the repositories that house it, the capacity to ingest both structured and unstructured data into a single repository for accurate data validation.
Beyond Key Tableau consultant is so proficient in data formatting. He is able to overcome obstacles like inconsistent data types and comparable data variables to enable the formatting of cleaned data.
3. Efficient Coding Skills
Beyond Key Tableau Consultant is well-versed in business intelligence and data analytics including PL/SQL, Excel, and ETL working knowledge and expertise.Working familiarity of RDBMS platforms and a solid comprehension of SQL BI. Beyond Key Tableau Consultant is also proficient in SSIS, SSRS, SSAS, and SQL queries.
4. Visualization Expertise
Beyond Key Tableau Consultant is specialized in knowledge of designing and creating data dashboards, reports, and visualizations, proficiency in converting data insights into user-friendly dashboards and visualizations utilizing APIs and information from the DHS Program.
Beyond Key Tableau Consultant is being able to use data visualization to emphasize and display key aspects of actionable data insights using effective best practice design standards.
Have exceptional abilities in visual analytics employing maps, dates, computations in tables, and charts, including the capacity to create a Viola Chart, create sophisticated Hexbin Charts in Tableau, and integrate Hamburger Menu capabilities.
5. Tableau Software Suite
Beyond Key Tableau consultant is proficient in the Tableau environment on a technical level.
Have ability to implement, integrate, configure, and deploy all Tableau Products and Versions, including Tableau Server, Tableau Public, Tableau Online, Tableau Desktop, etc., adept at staying current with Tableau Architecture and the Tableau Cloud.
Why does your organization needs Tableau?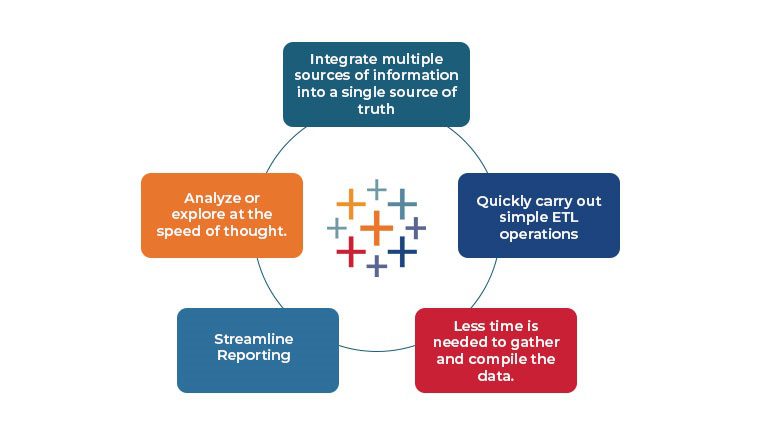 There are various applications for the tableau program. The following are things that Tableau actually helps you with.
1. Integrate multiple sources of information into a single source of truth
Tableau can quickly combine data from Excel, Access, SQL databases, and cloud-based programs, if you have any of these sources. No code is necessary. This is one of the ways Tableau can be used to see your company as a whole and have a single, reliable source for all business reports.
2. Quickly carry out simple ETL operations
Quickly completing simple ETL processes is one of Tableau's coolest uses! Tableau's automated data reshaper tool makes it very easy to swiftly turn data into the format you require. Once more, with a few clicks you may split fields, merge fields, connect on combined or calculated fields, remove headers and white space, and alter the structure of your data. Now, something that may take a SQL programmer several minutes to create code for or a businessperson using Excel a day to complete can be completed in a matter of seconds.
3. Less time is needed to gather and compile the data
Any report's main objective is to enable decision-makers to make timely, correct decisions. Stakeholders must have faith that the report's creator will gather and present information accurately.
Manually pulling, preparing, and combining data makes the process time-consuming and error-prone. Analysts may easily obtain data in a usable format thanks to the built-in data interfaces and preparation features in Tableau.
Saving time on data preparation frees up more time for your analysts to accomplish the work you hired them to do: analyze data and develop insights.
4. Streamline Reporting
Streamline reporting is one of the purposes for the program called Tableau. It is simple to create a report, aim it to a specific data set, have the data automatically refresh, and never touch the report again. Simply set it up, observe the insights, and act. A code, additional time, or meetings are not necessary.
5. Analyze or explore at the speed of thought
With the aid of Tableau, analysts can swiftly explore their data, uncover answers that prompt new inquiries, which in turn prompt fresh insights as quickly as they can be thought of.
Use Cases of Tableau

To speed up content creation, Tableau offers Dashboard Starters for well-known line-of-business apps. While improving their analytical abilities, content users can explore and engage with the early use cases. The initial use cases can be used as the foundation for developing additional material after they have received some training. Below is a list of some typical initial use cases, organized by department:
IT — Inventory of hardware and software assets, volume and duration of help desk calls, resource allocation, and security patch compliance.
Finance — Setting up a budget and following it, paying bills, and paying for trip.
Marketing — Leads, web interaction, and campaign engagement.
Human Resources: Employee satisfaction, new recruit retention, open headcount, and turnover rate.
Sales — Tracking of sales and quotas, pipeline coverage, typical deals, and win-loss ratio.
Facilities Operations: Locations, call center traffic and workload allocation, and volume and resolution of work requests
Conclusion
Beyond Key is a well-established organization with a staff of qualified data scientists, engineers, analysts, and specialists in data visualization. You may find top Tableau consultants, data visualization specialists, and developers with the help of Beyond Key. You may work with Beyond Key's Tableau consultants on a project-based, full-time, or offshore basis.
The varied pool of remote, international, and in-house Tableau Consultants at Beyond Key will fit your needs, whether you have a temporary employment demand or a major Tableau project.
To hire quicker and better Tableau consultants, get in touch with us.
Frequently Asked Questions

1. Why Should I Hire a Tableau Consultant?
A Tableau consultant assists firms in doing an extensive data analysis to turn it into insights. Hire a Tableau Consultant if you want your raw data to make sense and convey some narratives.
To improve your company's capacity for gathering, processing, and creating aesthetically attractive dashboards from raw data, you need a Tableau consultant. You may deploy, integrate, personalize, and manage the Tableau environment with their assistance. If you need automated tools for understanding and analyzing organizational data, you should contact a Tableau consultant.
 2. Can Beyond Key Aid in the search for a Tableau Consultant?
Yes! You have access to consultants who are certified in Tableau by Beyond Key. You may choose any Tableau consultant and have them fit your needs using Beyond Key. You may engage a Tableau consultant from Beyond Key on an hourly, monthly, or fixed-fee basis.
 3. What are the Advantages of Working with Beyond Key as a Tableau Consultant?
The top 1% of the best Tableau talent has been evaluated by us as Tableau consultants.
Our Tableau expert has an excellent analytical outlook.
Each of our tableau consultants has the appropriate technical and nontechnical abilities and is certified. We provide Tableau consultants that excel in narrative and communication.
Advanced team-building, problem-solving, and collaborative attitudes are common among our consultants. All Tableau Products are handled expertly by our Tableau specialists.