Customer Relationship Management (CRM) is software used by companies to manage relationships and interactions between the company and customers. Some of the primary objectives for using one would be to improve business relationships, stay connected to customers, and improve day-to-day operations to increase profitability. This helps companies optimize their time and efforts, eventually bringing them closer to their goals in the long run. 
There are different types of CRMs available to choose from, depending on the type of organization. Using CRM software has become a vital tool for increasing the efficiency of a company's everyday operations and there is no compromise on the same. If you are looking to leverage the best out of a CRM, Microsoft Dynamics can be your go-to CRM for Microsoft dynamics 365 data migration as it has got an edge over the rest. If you are a company that is planning to begin using a CRM or is already using a CRM and is planning to transition into a new one, D365 can be your safest bet for creating efficiencies, controlling costs, and improving productivity.
Here's how you can ensure that the transfer from a legacy CRM to D365 is smooth and hassle-free: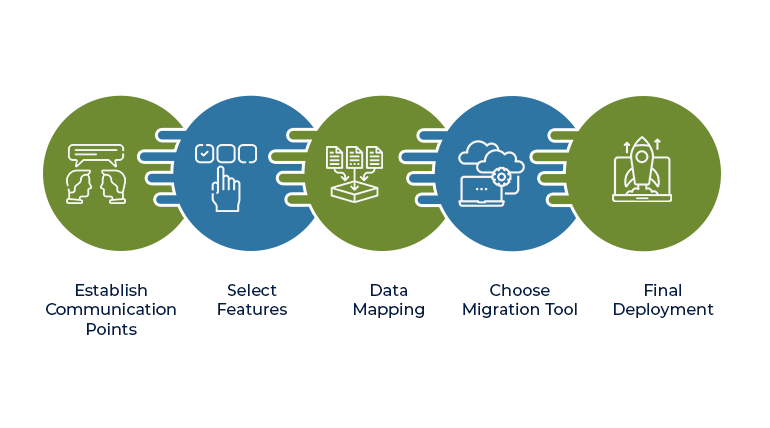 Establish communication points
It is crucial to understand who are the stakeholders when it comes to both data and the business. Setting a single point of contact for communication and defining clear workflows and business processes through data mapping can help. This is also the step when you should check out how well the end user is prepared for the migration toward adopting D365.
Select features
This is the step that involves what kind of features will be used in the new CRM. If your CRM is outdated and is looking to switch to a new one that comes with cloud-based features, then there may be a lot of pointers to be considered. To make a smooth transition, it is important to ensure that the different teams and the members in them are aware of making adjustments to make the best use of the platform.
Data mapping for dynamics 365 data migration
When it is time to transfer the data, reviewing the existing data before the transfer can help avoid any redundant data. In this step, it is important to analyze what are the fields that are currently in use and what can be scrapped. Creating a roadmap will also come in handy once you decide which tool can be used to make the transfer.
Choose migration tool
Once the transfer is made, making sure that the data transferred comes in the right format is a must. Even if you are not confident enough in transferring the data, you can carry out a test or a trial to see if things work out or if there are any compromises in terms of data transfer. This is because fixing them in this stage will reduce complications involved in fixing them in real time. 
Final Deployment
Now that the testing is done, it is finally time to go live with the dynamics 365 data migration. This is also the time when the end users will be locked out of the legacy platform and will be directed to the new one. Whether you have a lot to transfer or not, we recommend initiating the dynamics 365 data migration overnight or during the weekend. This will help reduce the impact on business and ensure business continuity. Now that you have an understanding of how to make the transfer.
Here are some reasons why opting for a Microsoft dynamics 365 data migration into a CRM like D365 can help benefit your business:

Easy to schedule services
Sometimes ensuring that the clients do not miss an appointment or a service call may be a daunting task. This can hamper the customer experience. In such a case, D365 delivers. It comes with a centralized view that provides all details involving client service requests and calendars. Companies using D365 can easily match the client to the service providers or service requests. This in turn can make sure that your customers are satisfied in the long run. 
Simple data source integration
D365 bears the features of both Web Services and Microsoft .NET Framework. If your company is into working with third-party applications, dynamics 365 CRM can not only help personalize emails and track recipient tools but also identify the companies that visit your site and keep a check of the links or pages the companies click on your website. This comes in handy at a time when you want to identify new customers, leverage their potential, and eventually increase the ROI of the website. In other words, D365 is versatile such that it can be easily paired with third-party applications to help break down the information that you collect. Also, when data is easily integrated, it becomes easy to transition from a legacy CRM to a D365 CRM. 
Automate workflows
Gone are the times when menial tasks required a lot of human intervention and had to be performed with repetition. D365 comes with an automated workflow management system that companies can use to create results. This helps cut down the time taken on such tasks and instead devote more time towards managing those that require more importance. Additionally, D365 comes with a dashboard to show how your workflow is going on and what can be done to help improve it. 
Streamline communications
Communication between the stakeholders of a company like employees and customers can either make or break the trust and confidence in the services offered. Streamlined communication can help create efficiencies and improve productivity both internally and externally. Right from maintaining a unified brand voice to sending messages within the organization and tagging each other on projects, a CRM like D365 makes it easy. 
Conclusion:
Companies using a legacy CRM for their day-to-day work may find it challenging to make a transition to a new and updated one. It is crucial to note a transfer is nothing less than an investment that will come in handy for empowering the way the company works. D365 comes with a variety of add-on solutions to try and this in turn helps in running the daily roles and responsibilities in your company smoothly. However, Dynamics 365 is a suite and is versatile enough for companies to perform steps like driving tailor-made campaigns at any point. So it is not limited to being used only as a marketing module. 
The CRM comes with AI-driven insights that help you monitor the data, score, and prioritize potential leads seamlessly. So in case you are using legacy software, D365 by Microsoft comes with migration services. These services help keep a check on any sort of data loss to a possibility as low as nil. To help ensure a smooth dynamics CRM data migration, Microsoft D365 is flexible enough so that the migration process from legacy to D365 is smooth and hassle-free. It is built to stand the test of time and can also go well with office applications and tools for dynamics CRM data migration.
Regardless of how and when your stakeholders choose to interact with your organization, using a CRM like D365 will have you covered. The CRM is built such that the users have a comprehensive advantage by managing relationships between various stakeholders easily and smoothly delivering easy-to-use solutions, making it the go-to solution CRM for a variety of firms and companies. Schedule a discovery call to know more about a hassle-free migration from your legacy CRM to D365.