Insurance is a way to protect from financial loss. By paying specific amount one party agrees to pay to another party if they suffer a certain type of loss, damage, or injury. It is a type of risk management that is mostly used to protect against the risk of an uncertain or possible loss. 
Insurance's main goal is to take away the worry that comes with a sudden and unexpected financial loss. Insurance is a big and complicated business that includes many different types of insurance, such as life, health, auto, property, and liability. Every kind of insurance has its own rules and guidelines.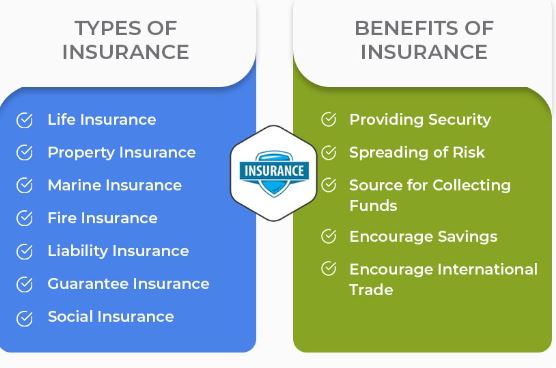 Some insurance products, such as life, health, and property and casualty insurance, are addressed more often than others. 
Life insurance protects against the death of the person who is insured. 

 

Health insurance pays for medical care for the person who has policy and their family.

 

Property and casualty insurance protect things like homes, cars and business against loss or damage.

 
Significance of Business Intelligence in the Insurance Sector 
Business intelligence (BI) is a tool that can assist insurance businesses in improving their operations, achieving a better understanding of possibilities and risks, also delivering actionable information that helps business leaders, managers, and workers make smart business decisions. 
The insurance business is closely watched in the world. If we want to participate in insurance market as an Insurance company, then company need to know about their customers, products, and sell product with 4W ways (Where, When, Which & What).  
Nowadays, in insurance industry the business intelligence consulting (BI) is a key tool for keeping up with the latest developments and changes. By using BI software, operations can run more smoothly and achieve customer satisfaction. It is also reducing risks, increasing sales, and making the organization economically strong. 
Useful Features of Business Intelligence in Insurance Domain 
Business intelligence works in multiple ways in the insurance Industry.  
Fraud Management:

It is helping teams to look at fraud by finding false claims.

Using fixed patterns of data, insurance companies can find suspicious activities that need to be investigated more.

 

Customer Service:

Assisting customer service representatives in solving customer problems faster and more effectively when they have access to data. Business intelligence can help marketing teams learn more about their clients and give them the right products and services. 

 

Marketing Team

: By looking at customer data, marketing teams can find patterns and make plans to bring in new customers and retain existing customers.

 
Below are some useful features of Business Intelligence in Insurance Domain: 
Visualizations:

Business Intelligence software is used to create insightful visualizations from which users can draw actionable visions. In addition to finding fraud, insurance companies can use this ability to watch market trends and make better business decisions. 

 

Effectiveness in Operation:

By creating financial reports accounting team can get know how much money spent on claim settlement and how much money earned from premiums. Operational reports that track how the employees are performing and helps in resource planning. Reports that show how the data looks and help executive management for making important decisions.

 

Data Governance:

Business intelligence use data governance to ensure that the data they collect, store, analyze, and utilize is accurate and complete.

 

 
Management Decision Making:

Insurers can then make better decisions about products, pricing, and customer needs by using Business intelligence.

 

Collaboration:

The Insurance sector can manage large volumes of data with Business intelligence in areas such as premiums, policies, claims, transactions, brokers, re-insurers, risks, or coverage. BI can segregate the data in a systematic way to get insights that can be use

. 

 

Advanced Analytics:

Advanced Insurance Analytics can help in insurance domain to find patterns that may indicate high levels of risk by looking at certain data sets. For example, they can find probable fraud payments or insurance liabilities. 

 

Real Time:

Developing dashboards with the use of business intelligence in the insurance domain gives real-time, actionable insights to the insurance company.

 

 
Purpose of Applying Business Intelligence In Insurance Industry: 
The insurance industry is using business intelligence (BI) to improve risk management and pricing policies. Risk management is one of the areas where business intelligence has a major impact. For many years, insurance companies have used actuarial science (mathematical and statistical methods to assess risk in insurance) to identify the risk. Now the insurance companies having more data available so they can use business intelligence to take this method to a new level. 
In the insurance industry, predictive models are better than actuarial models because actuarial models collect demographic data and assess risk based on board demographic patterns. For insurance companies to make the best predictions, they need to collect data regularly. Business intelligence tools can use by insurance companies to assess risk, make financial projections, and figure out how profitable a product is. 
By using Business Intelligence, all the data can be gathered in data warehouse and managed from there. This information can then be analyzed and make dashboards and reports that show how the business is doing and where it is going. Using these dashboards, insurance companies can drill down into data to understand trends and patterns in claims.  
With the help of Business Intelligence, insurance companies can make algorithms that are much more effective at deciding which customers are interested in buying a claim and due to this, they are able to offer better pricing. The insurance industry has always been known for keeping a lot of information about their customers and claims. Using this information, they can make more informed decisions about funding and risk management. 
Fraud detection is another area where data analytics is used in various ways. Using fixed patterns of data, insurance companies can find suspected activities that need to be investigated further. BI applications can also use to find transactions that are being done unfairly. If the pattern of claims or payouts is unusual, they can investigate those claims in detail and perform action accordingly. 
Business Intelligence can also be used to improve the services of insurance companies by looking at data from customer support call centers, that they can find patterns like how customers ask questions and deal with common problems before they get escalate.  
Rewards from Business Intelligence in Insurance Sector 
Business Intelligence is a collection of applications, tools, and methods that insurance service providers can use to get business data from both internal and external sources. Once the data has been separated for analysis, users can run queries on it, make reports, and creates real-time dashboards to find insights that they can use to cost cutting, manage risks, streamline processes, and earn good revenue. 
Business Intelligence offers the following rewards: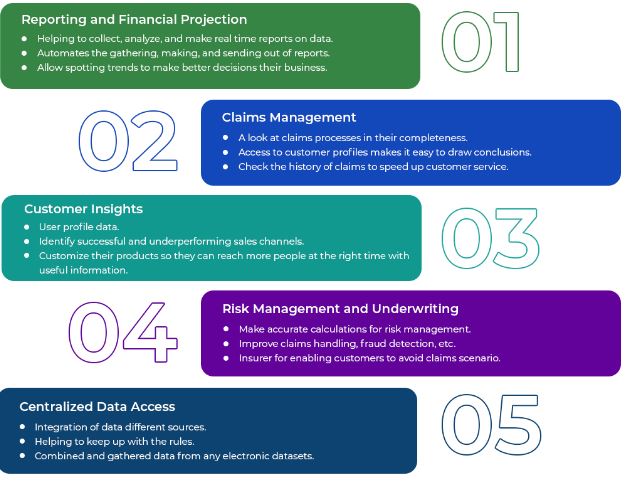 Conclusion 
Business intelligence is an important part of the insurance industry's evolution. As insurance companies keep up with trends and use data to calculate how consumers will behave, they can provide their customers with the best product and service. By using business intelligence, the insurance industry can continue to grow and change. 
We Beyond Key is a Microsoft Gold Partner and has been certified as one of "The Great Places to Work". As a global IT consulting and software services company, we focus on making software solutions and products that are scalable and go above and beyond what our customers expect. 
Since 2005 (16+ years) when we first started, our team has grown to include more than 275+ skilled software professionals. We develop and design IT solutions for our clients in the US, Canada, Europe, Australia, the Middle East, and India. 
We have experts in Business Intelligence technology who can help you build the right solution for your business. Our leadership team works hard to think of and create new applications that go beyond imagination. 
How can Beyond Key help? 
Reach out to Beyond Key if you have questions about Business Intelligence or just want to get the most out of your system. 
We help you every step of the way, from choosing a platform to putting it into action and making it live. Once you are up and running, help your users and keep your system up to date and running well. contact us today to find out more. 
We would like to know about your business and talk about how our Insurance solutions  can meet the needs of your business.