As Automation testing gains popularity, more and more companies are looking forward to investing in the best test automation tools and Selenium becomes the primary choice of testers because of its numerous advantages. In this blog, let us try to understand how Selenium integration can be achieved with Continuous Integration (CI) tools like DevOps, Jenkins, Circle CI, GOCD, Travis CI, Gitlab, etc.
First and foremost, the requirements before discussing the Continuous Integration/ Continuous Development (CI/CD) pipeline, test automation is essential to a successful CI/CD pipeline. Test automation enables:
Easy handling of small changes,
Faster execution test cycles,
Consistently detailed dashboards with extended reports,
Agile frameworks, and
Configurations.
What is the CI/CD Concept?
CI/CD is an automated process that involves as few human interventions as possible to avoid unnecessary manual work and errors.
CI stands for Continuous Integration. Continuous integration is the process of verifying software after each code commit. As in every development cycle code and functionality intent to grow with every sprint that is taken into a newsprint cycle.
Most web applications require more and more lines of code to add new functions for users and keep up with the market and technological changes. That is why as your team grows, so do the interaction points grow between team members, clients end with reports, and less probability of errors./p>
Get a quick look at various elements of a CI/CD Pipeline
Below is an example of what a continuous flow looks like in a CI/CD pipeline:
Change/update the code
Initiate build
Build
Validate build results
Automated testing
Determine test results
Deploy to the staging environment
QA testing
Deploy to production
Smoke test
At a high level, you can specify >>
Build >> Test >> Releases >> Deploy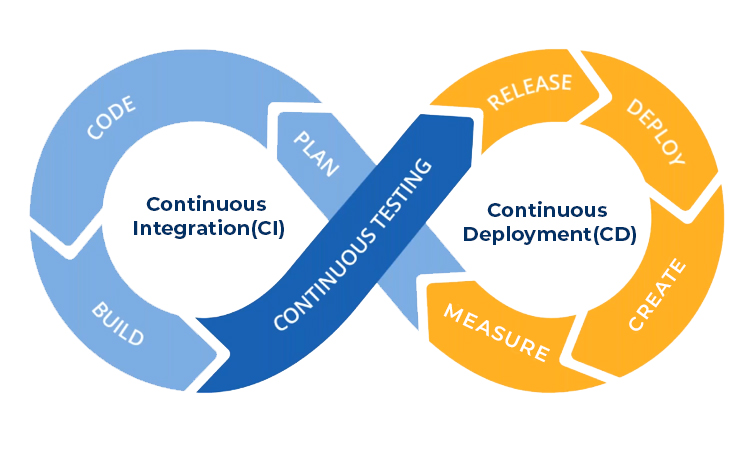 The CI/CD pipeline plays a pivotal role in ensuring a flexible development environment. Here are the two biggest CI/CD tools in the market– Jenkins and Azure DevOps
Jenkins
Jenkins is one of the most popular open-source CI solutions in the software industry. The tool requires the webserver to operate as a server-based CI application written in Java. Companies rely on Jenkins because of the software:
Operates on various operating systems
Employs a simple user-friendly interface
Has community-contributed plugin resource
Has an easy-to-use environmental configuration
Includes distributed builds with master-slave architecture
Builds schedules based on expressions
Incorporates Windows and shells execution commands for building steps
Supports notification on the build status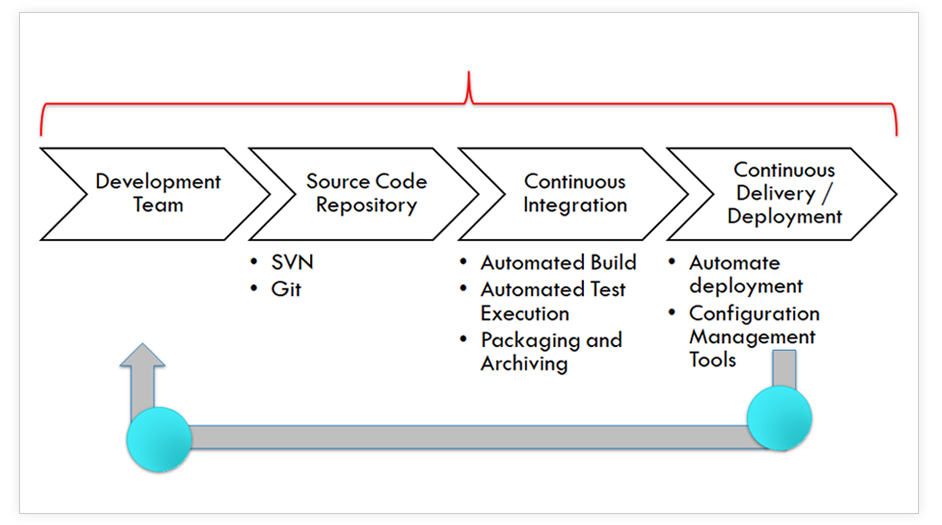 Azure DevOps
Azure Pipelines formerly known as Visual Studio Team Services (VSTS) is a Microsoft product. It is a Continuous Integration (CI) server, which automates the build and deploys process of your web applications. By running your Selenium test suite in Azure Pipelines, you also automate testing as part of the build process.
Pros
Repository
Build Pipelines
Release Pipelines
Test Plans
Work Items Tracking
Easier integration with IDE
Dashboard Presentation
Automated Scripts
Cons
License costs
Board could be more advanced
Merging conflicts tool
Final Thoughts
The benefits of a good CI/CD strategy are felt throughout an organization. In a competitive development environment, having the right CI/CD in place gives any company an edge.
At Beyond Key, we closely work with Microsoft Azure services and experts because the software shortens upon every sprint cycle with automated scripts, increases the visibility of executions, and submits reports via emails setup.
If you are interested in learning more about how we can help your organization with Quality assurance and automation testing services, please contact us today for a free 1-hour consultation.