Business Intelligence tools have been around for more than a decade. They have outgrown the archaic ways of data warehousing and analysis to manage, interpret, and turn data into usable information.
Business Intelligence (BI), therefore, emerged as a revolutionary technology that enabled businesses to make decisions quickly and efficiently based on the right information at the right time.
Sooner, several BI software flooded the market that provided simple-to-use features allowing decision-makers to become more self-sufficient. Business executives could now gather data and gain insights by visually interacting with it. This BI software and tools were efficient, easy to use, and equipped business leaders with self-service technology based on their needs.
What is Business Analytics?
Business Analytics (BA) leverages technologies that gather, combine, manage, and analyze raw data to derive meaningful insights. It includes processes like data mining, predictive modeling, and statistical analysis.
BA helps understand the market trends, consumer behavior, and buying patterns. As a result, businesses can further anticipate potential risks and know the loopholes in the current business models to increase productivity and profitability.
Understanding the BI Analytics Architecture
A business intelligence architecture encapsulates the technical requirements, data management and analytics processes, and particular systems and services deployed to support a firm's BI activities.
It further acts as your technical framework for gathering, organizing, and maintaining BI data before making it available for analysis, data visualization, and reporting.
A good BI architecture also includes understanding BI analytics tools that control how the technological components are used now and beyond.
Business Intelligence vs BI Analytics
BI and BI Analytics seem like terms that can be used interchangeably. However, both the terms, despite being mutually dependent, hold the same difference as descriptive and predictive analytics.
BI is more descriptive and employs ways of defining the datasets. In contrast, BI analytics is more predictive as to how the same dataset should be employed.
Say for a particular product A your Sales has witnessed a rapid boost in the past week. Such conclusions are the end result of BI processes. They answer the "what" and "how" of your business events. In contrast, BA will tell the reason behind the surge in sales, thus answering the question 'why".
Business Intelligence architecture's work ends with the collection and curation. So, it helps businesses stay ahead of the pack and at the top of the game. On the other hand, Business Analytics applies the logistics mentioned to revolutionize the business for enhanced efficiency and quality outputs.
Top 5 Modern-Day Tools For BI & BI Analytics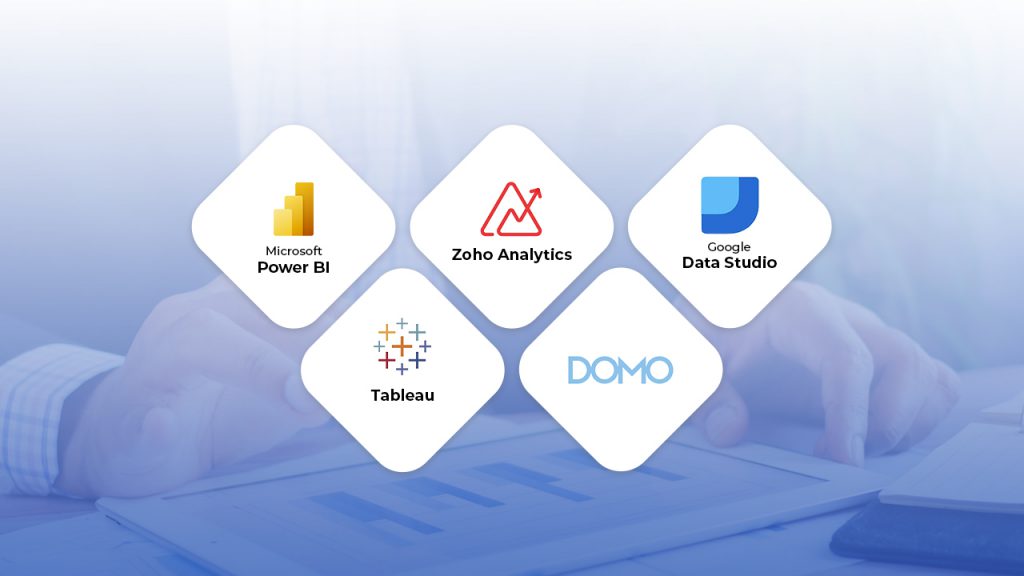 The advent of social media, along with globalization, has changed the face of marketing for all. A quarter of the data on all B2C relations, therefore, comes from these platforms making data and business analytics an eminent part of the BI models.
The process of obtaining actionable insights from data to aid judgment calls comes under Business Intelligence. BI tools, therefore, are inseparable parts of these regimes. They assist firms in identifying market dynamics, measuring the efficiency of their efforts, and identifying new economic prospects.
Using modern-day BI tools and BI software can change your business model for the best. Therefore, let's look at the following carefully curated list of the top tools for business intelligence and analytics.
1.     Microsoft Power BI
Microsoft Power BI gives you numerous data visualizations and built-in AI features, strong Excel interaction, data security options, etc. You can further discover and communicate significant insights.
The Microsoft Power BI is perfect for self-service analytics. This BI analytics tool helps reduce the additional expense, difficulty, and security threats involved in various other solutions.
2.     Zoho Analytics
Zoho is another popular BI solution that helps businesses troubleshoot different data-associated issues. It integrates, organizes, and analyses your statistics in seconds, finds hidden insights, generates spectacular graphs, dashboards and reports.
Once this process is done, you get the organized form of data statistics curated specifically for your domain. One of the best features of Zoho is that it gathers your raw and unorganized data and assimilate meaningful and useful information that can be used to drive meaningful insights and decision-making.
3.     Google Data Studio
Google Data Studio is a free BI software application that allows you to visualize statistics easily. You may select from various datasets, such as Google Sheets and Microsoft Excel files.
Google Data Studio's AI automatically merges information from diverse sources, analyses it, and allows you to create interactive charts, dashboards, and reports.
What's most impressive about it is that all of this is done within minutes to provide meaningful insights based on the B2C and B2B data curated so far. Moreover, a feature worth praising here is the software's ability to fetch information from third-party sources. All of that for free, with more efficiency than ever.
4.     Tableau
Tableau is one of the best BI software out there to manage your data visualization. Its most intriguing feature contributing to it becoming people's favorite BI tool is the simple drag-and-drop capability.
You do not need to have a technical background or worry about learning advanced coding languages for operating this BI analytics tool. Instead, knowing how to read excel sheets, datasets, and basic market analytics is more than enough for getting you started with Tableau.
5.     Domo
You may create a whole listicle with live visualization in Domo. The best part is that the dataset comes from the groups of contacts in your database that are similar depending on the factors you specify.
You can categorize these interactions based on various criteria, such as page views, lead score, engagements with emails, number of contacts, etc. Moreover, you also get forms responses, technical indicators, or any data stored in your contact records.
Long story short, Domo might just be the best tool to improve your presence and B2B interactions to broaden your reach.
Conclusion
Good data is the starting point to drive any digital transformation initiative. By having the right tools to manage and process data; your enterprise can leverage it meaningfully.
A BI Analytics software gives you an array of modern tools to pick your best data and security solution. When your business uses BI software to organize data, through advanced analytics, you can exchange information across teams like never before.
The right BI software meets your organizational goals and becomes the driving force in building the best enterprise on modern business frameworks. However, you can experience the real benefits of using BI software when you operate it in tandem with your business strategy.
Thus, Business Intelligence Consulting is an integral step to making your business truly intelligent. BeyondKey helps you understand the uncharted domains of warehousing, safety, and curation of data, power bi dashboards, and reports.
Contact our experts today to get top-notch assistance with these robust technologies and revolutionalise your business operations forever.