Organizations face challenges in providing consistent customer service while maintaining decent profits and fulfilling growing expectations in the market. Due to the ever-growing market competition, meeting service quality expectations is challenging.
Many organizations look for ways to provide seamless customer service by providing them with all the information and advice they require at the moment. To ensure constant interaction with the customers across all the service channels, organizations need software that helps them to raise brand loyalty and customer loyalty. And the solution is Dynamics 365 for Customer Service. Let's understand what exactly it is.
What is Dynamics 365 for Customer Service?
Dynamics 365 for Customer Service is a customer-oriented solution that aims to provide the best customer service. Filled with enormous benefits, exquisite features, modern technology, and AI, Dynamics 365 aims to increase employee productivity and workflow in an organization. 
Dynamics 365 provides customer services with its omnichannel capabilities. It gives the correct information at the right time to arrive quickly at solutions. In addition, Dynamics 365 provides visibility into customer service departments and helps increase sales figures. The virtual agents help in automating services and optimizing service operations. 
Any company that needs customer support services can use the Dynamics 365 Customer Service portal. Whatever the nature of your company—whether you sell electronics, provide delivery and transportation services, or operate a sleep music app—if it involves clients, they might need your support.
The Dynamics 365 Customer Service portal implementation is an excellent way to: 
Improve the problem-solving abilities of your agents; 

Simplify the information flow between your resources; 

Facilitate efficient client communication;

Increase customer satisfaction by offering superior customer service.
If it sounds like something your company might find helpful, continue reading to learn more about this powerful solution. We'll review its features, benefits, implementation strategies, and use cases. 
What benefits does Dynamics 365 for Customer Service offer?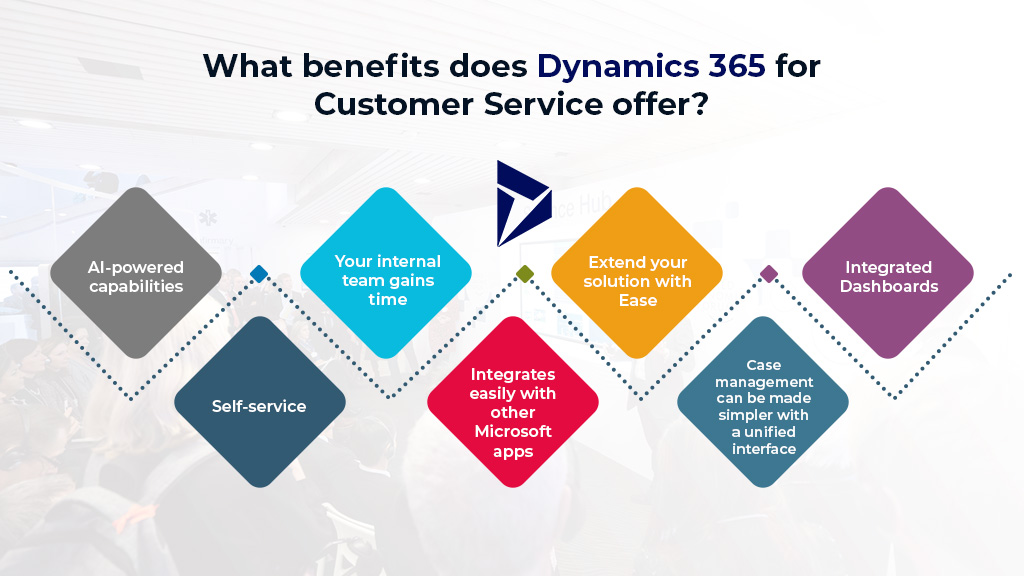 Enhancing customer service has clear benefits. Let's look at the specific benefits of Dynamics 365 Customer Service before discussing why effective client problem resolution is essential for your company's longevity, profitability, and reputation.
AI-powered capabilities
The AI-powered chatbots help in resolving complex issues faced by consumers. Chatbots help in quick redressal and remuneration of serious problems companies face. This leads to unbridled customer support by providing self-service solutions. 
Your internal team gains time
No more ambiguity or confusion. No more misdirected resources attempting to complete tasks for which they were not adequately prepared. You can make the most of your resources. 
By tracking their best abilities and applying them to the appropriate circumstances with the help of the Dynamics 365 Customer Service portal. Playing to your team's strengths enables them to excel at their tasks and raises the operation's general efficiency.
Extend your solution with Ease
As business requirements change, you can easily extend omnichannel capabilities to your solution. The live chat, digital messaging, and voice channel are the three add-ons available with the enterprise package. The voice channel, the newest feature, can transform your solution into an all-in-one digital contact center. 
You can begin making and receiving calls instantly once you have a phone number and a conversational Power Virtual Agent set up and ready to go. Agents are better equipped to address customer issues more quickly thanks to real-time transcription, live sentiment analysis, real-time translation, and AI-driven recommendations for related cases and knowledge articles.  
Integrated Dashboards
The integrated dashboard benefits customers as it is feasible and easy to use. Customers can easily switch between different tasks as Dynamics 365 offers one platform for all. In addition, organizations can easily schedule, manage and assist visitors with the help of various resources and creating service activities. 
Dynamics 365 allows businesses to create self-service portals to support field service. Customers can easily access these self-service portals to exchange ideas and build communities. 
Self-service
The customer can typically resolve their solution on their own, except in cases like refunds or returns. They only require a comprehensive portal that is easy to search, navigate, and comprehend.
Self-service helps your customers achieve results more quickly while relieving your service's burden of handling a high volume of incoming calls for customer support.
Integrates easily with other Microsoft apps
Any other Dynamics 365 applications and Microsoft products like Power BI, Teams, Excel, etc., are seamlessly integrated with D365 Customer Service. In fact, Microsoft Teams is integrated into the agent desktop as part of the Enterprise package. So that teams and experts can easily connect and collaborate to solve complex cases. 
If AI suggestions are enabled, your agents can view suggested contacts who have resolved similar instances. You can quickly expand your solution through Microsoft App Source using add-on applications, just like any other Dynamics 365 app.  
Case management can be made simpler with a unified interface
One of the top advantages of Dynamics 365 Customer Service is that it makes daily life easier for your service team and gives them the tools they need to work more productively. Dynamics 365's Customer Service Hub gives your team a unified interface that is easy to use. Agents can review their caseload and take action without switching between sections of the application, thanks to the interactive dashboards. 
Instead of searching for a case, an agent could, for instance, open and update the case directly from the dashboard. Long-term productivity gains and time savings result from agents' ability to work on multiple available cases without losing context or ongoing work. Additionally, you can set up rules for emails, social media activity, phone calls, and other activities to automatically create or update cases. 
Features of Dynamics 365 for Customer Service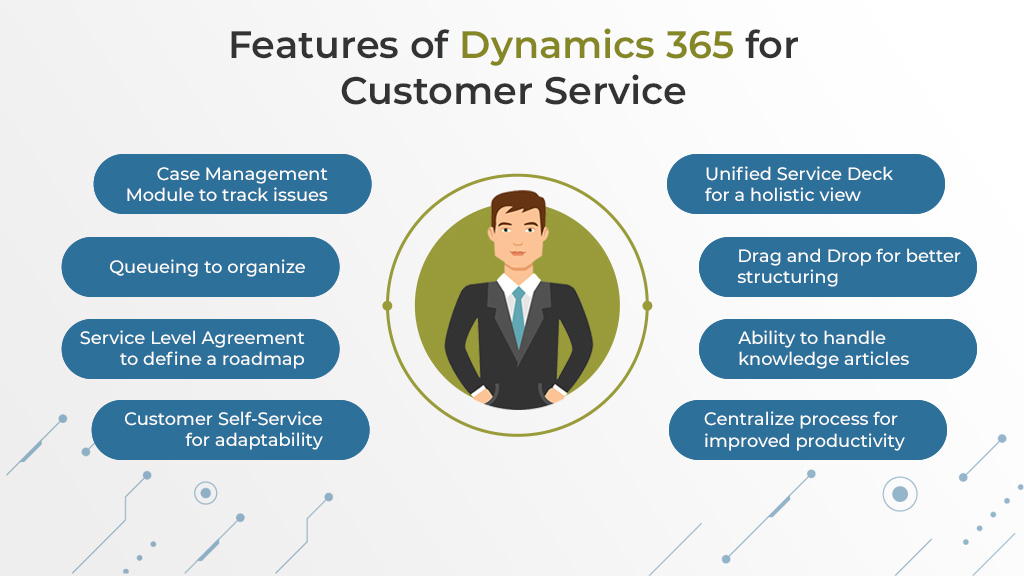 Case Management Module to track issues

Queueing to organize

Service Level Agreement to define a roadmap

Customer Self-Service for adaptability

Unified Service Deck for a holistic view

Drag and Drop for better structuring

Ability to handle knowledge articles

Centralize process for improved productivity
The case management module of Dynamics 365 allows agents to track issues faced by customers. Agents use Dynamics 365 to escalate cases or set up entitlements to support customers. At the same time, organizations use Dynamics 365 to establish subscriptions, handle service orders and manage how the services are delivered. 
Queue helps organize and hoard potential job opportunities that are yet to be processed. Queue allows for setting distinct entity records that enable organizations to manage their database. 
The service level agreement between the customer and the business clearly defines how businesses can support the customers. The service scheduling feature allows companies to plan services more efficiently.
The customer self-service feature allows organizations to customize the dashboards depending on the changing requirements with time. In addition, customers can create cases anytime, asking for help from companies to solve their issues. Various prompts and other support systems allow customers to solve their problems satisfactorily. 
The unified service desk module provides the agents with a holistic view of Dynamics 365 customer service. The agents can quickly resolve customer issues using the 360-degree view of the customer data. 
Dynamics 365 for Customer Service offers a drag-and-drop builder that allows organizations to construct and circulate inquiry forms. Thus the voice of the customer can be heard by collecting genuine feedback from the consumers. 
Customers can manage, circulate and translate knowledge articles with consumers. Consumers can also retain several versions of the same knowledge article. The uniform interface of Dynamics 365 allows users to view all accounts and other information. 
Dynamics 365 allows businesses to centralize client information, streamline processes and use unified routing to route tasks. 
Let's see some Dynamics 365 Customer Service portal features that might be useful for your business. Among other tabs, the Customer Service portal gives you the ability to:
Monitor customer service request cases; 

Maintain a log of all associated interactions;

Manage and add content to the knowledge base;

Manage queues and assign support cases to the appropriate resources;

Utilize service level agreements (SLAs) to monitor your service levels;

Establish service terms using entitlements;

Make use of dashboards and reports to assess your performance and productivity;

Plan and execute services;

Chat to your team and clients;

Manage communication between interactions through all channels.
How to implement Dynamics 365 for Customer Service?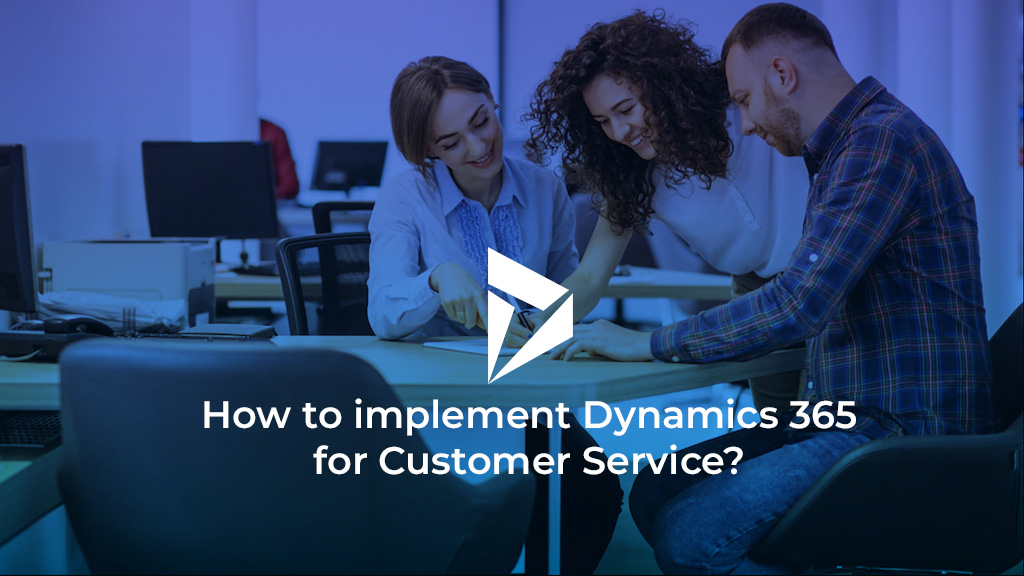 Understanding business needs- Before making any decision, organizations must discuss the basic requirements of the software. Companies must have an open discussion with all their departments and collect their views before making any decision. 

Having sound knowledge of business requirements and specifications of the desired solutions- Organizations must understand the answers' requirements after understanding basic business needs. 

Understanding the structure of the solutions- Organizations must customize solutions or alter certain features of the solution according to the business needs. 

Implementation of the solutions- The most crucial step is to deploy the keys for effective management and to ensure company growth. Businesses must keep up regular checks and tests to understand the effectiveness of these solutions on the customers.

In addition, companies must regularly monitor their operations and build a solid relationship with customers to ensure a brand identity in the market. Tracking the performance would allow businesses to prepare themselves for future issues guaranteeing complete customer satisfaction. 
A Use Case of Dynamics 365 for Customer Service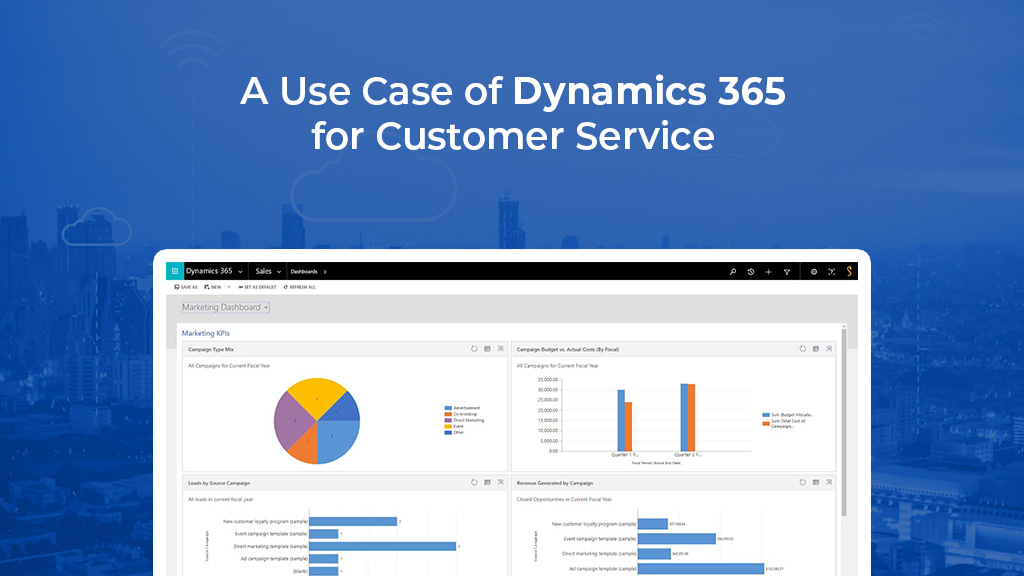 Many manufacturing companies have incorporated Dynamics 365 in their operations to automate customer service and increase business productivity. Dynamics 365 offered solutions that helped the company to achieve case automation in real-time. 
The custom portal Dynamics 365 allowed them to track customer queries and respond to them in no time. Thus the custom portals allowed them to address other challenges prevalent in the industry. Beyond Key did something similar for a US-based client.  
They are a Paints and Coating solutions provider aiming to solve the most challenging application problems in the specialty performance coatings sector.
The problem
The client was using a traditional MS Excel-based manual entry system before adopting Microsoft Dynamics 365, which was time-consuming and prone to mistakes. Additionally, the business's use of a legacy application to handle incoming cases led to a general lack of insights and report generation.
Using the Microsoft Dynamics 365 Customer Service module, a fully AI-driven case management system with predictive insights, we created a brand-new case management system specifically for their business. Among the characteristics are:
Case creation that is automated Case life cycle insights

Integration of the customer portal and case management

Live tracking, case status, and progress

Dashboards and reports for cases
Results
Real-time case automation and progress tracking.

New case notifications are automatically sent to the MS Teams or Outlook cases.

Time is saved, and cases are resolved more quickly.
There's a lot more that they benefited from. If you're keen to know more, check out this link for a complete case study

Conclusion
Good customer service directly leads to the growth of the business. Although providing a good customer experience requires a lot of effort, resources, time, and energy to build an irreplaceable position in the market, investing in customer service is worth it.  
An integrated cloud solution like D365 Customer Service can help you provide high-quality service and meet customer expectations. Consistent and personalized customer service is essential to maintaining your customers. To see it in action and determine whether it's a good fit for your organization, schedule a personalized demo.
Beyond Key can help you get started with Dynamics 365 Customer Service. We are a Gold Microsoft Dynamics 365 Partner, and we can help your organization digitally transform and thrive with Dynamics 365. Contact us today to get started.