Manufacturing is a process-heavy industry. However, manufacturers need to leverage these processes to better the customer experience. Therefore, the right CRM is a great step forward for manufacturing companies.
Dynamics 365 (D365) is a comprehensive, cloud-based collection of apps.  D365 helps manufacturers achieve unify operations, improve processes, and engage with customers.
The increasing accessibility of digital manufacturing tools, such as cloud storage, makes it easier than ever to create "smart factories". That is to say, these smart factories' devices, assets, and resources sync global operations and make the industry more productive.
Dynamics 365 helps manufacturers monitor CRM automation by processing and gleaning data in real-time. You can view the performance, usage, and machine lifecycle information anytime, anywhere. It is also possible to resolve any issues remotely to maximize uptime.
Dynamics 365 CRM for Manufacturing
For manufacturers, Microsoft Dynamics 365 bridges the gap between CRM and ERP systems to produce rich analytics, embedded intelligence, and easy-to-use applications.
Moreover, D365 unites every aspect of the manufacturing supply chain to ensure a smoother fit for all organizations.
Dynamics 365 offers greater insight into business operations, optimizing systems, shortening processes, and cutting costs. With real-time product, customer, and performance data, manufacturers also have more freedom to improve their operations and react to changes faster.
Dynamics 365's centralized, intelligent platform allows manufacturers the agility to adapt to changes at any point in the business cycle. Users can:
Push through rush orders from the initial sales order
Update or edit orders throughout the production process
Utilize multi-level production orders to simplify make or buy decisions
Run "what-if" scenarios to better prepare for changes and predict their effects.
Custom-built Dynamics 365 CRM for Manufacturing examples:
You can Integrate many Microsoft tools with Dynamics CRM. For example, the Microsoft App Launcher provides you access to the entire Microsoft 365 suite of products.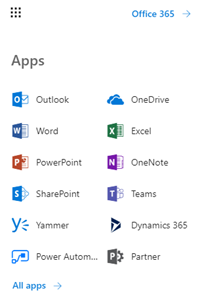 You can access your custom entities and categories anytime in the left navigation menu:
Also, create different views for entities and fields to access them directly in a single view
Most importantly, you can create Multiple Dashboards, Charts, and Views based on custom entities and fields to view your organization's performance
Custom-built Dynamics 365 CRM:
If your manufacturing company needs a custom-built Dynamics 365 Manufacturing CRM, contact us at Beyond Key Systems to build it for you.
Every manufacturing company has its own needs and workflows. Consequently, it is a good CRM does can be customized to fit your current processes.
A few more benefits include:
Robust Project Management
Imagine if you monitor your manufacturing operations' performance (timely execution, quality, and cost) with production performance Power BI reports. Additionally, you can review, monitor, and approve all charges and time impacting projects through intuitive dashboards and respond quickly to scope changes and project risks by managing critical KPIs and ensuring profitable service delivery.
Get Visibility into Operations
Improving access to your supply chain data with Dynamics 365 will improve communication between the production, supply, service, and sales teams. Fostering collaboration across departments and connecting various business systems offer a better understanding of operations.
Improve Productivity
Manufacturing productivity comes from having a consolidated view of operations and access to mobile and virtual reality tools to monitor and resolve issues remotely through Dynamics CRM
Creating personalized sales documents with

Office 365 tools
Event-driven sales process
Workloads
Relevant and contextual documents
Offline on phones and tablets

Real-time updates offer greater visibility and an accurate view of the buying cycle to ensure procurement stays within the company's preferred quantity and price levels.
Employee Productivity and Efficiency
Collect and analyze data from connected products and equipment
Empower employees to collaborate more efficiently
Automate processes

Across the manufacturing lifecycle
Accelerate production
Improve the cycle of innovation

Provide employees with a 360-degree view of customer assets and work order history to understand customers and their needs better
Enable instant feedback from machine learning algorithms for successful troubleshooting and maintenance
Customer Service and Engagement
Adopt a customer-centric approach while optimizing operations
Create and deliver personalized content that customers can access anywhere and anytime
Engage customers across the product lifecycle from production design to field service
Offer a range of value-added services that increase revenue and strengthen customer relationships.
Real-Time Insights
Simplify and accelerate business process changes by

Integrating legacy systems
Scaling globally at their own pace

Consolidate the process and institutionalize efficiency gains by monitoring issues remotely
Equip technicians with mobile and virtual reality tools that leverage existing expertise while minimizing costly engagements.
Boost profitability
The whole point of improving processes, streamlining workflows, and boosting customer loyalty is to make your manufacturing business more profitable. As a result, Dynamics 365 provides manufacturers with the tools and business intelligence solutions to make their services better, faster, and customer-focused.
Dynamics 365 accomplishes these goals by eliminating waste, reducing errors, and providing more value to their customers.
Dynamics 365 CRM for Manufacturing Conclusion:
In conclusion, we at Beyond Key Systems help manufacturing companies streamline their workflow, improve vendor management, promote a better supply chain management with Dynamics 365.
To learn more about how Beyond Key System can help your manufacturing company, please contact us at contact@beyondkey.com or visit our website www.beyondkey.com.