Gone are the days when using Excel was the only way for businesses to store and analyze customer information. With Microsoft Dynamics 365 Supply Chain Management, you can leverage the Office suite's capabilities for optimizing maintenance plans and generating intelligence from IoT sensors. 
It can help you perform proactive maintenance, efficiently manage spare parts, and automate work orders, all in a secure Microsoft environment.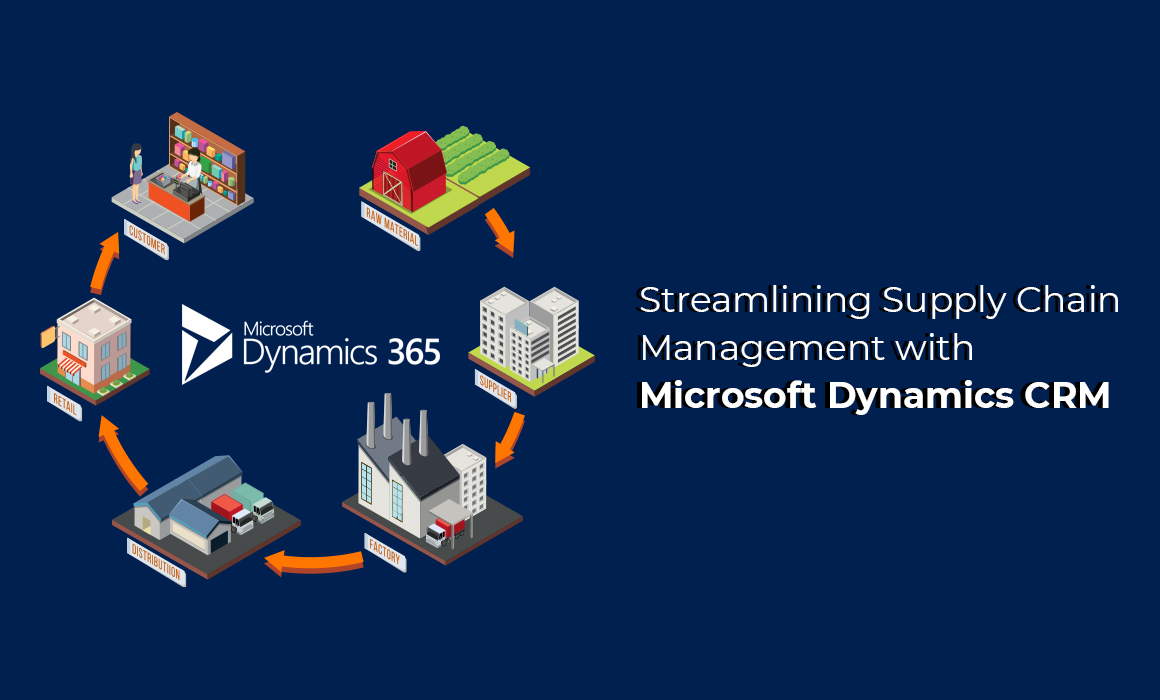 Dynamics 365 is much more than a basic CRM system that supplies detailed customer information. Its capabilities are endless, but some notable features include:
Track current and completed transactions

Check live cargo status and order estimation

IoT Integration with CRM

Barcode Scanning and RFID

Setting up storefronts

Payment information and gateway integration

Tracking limited commercial offers (and more)

Case handling with improved communications 

Revenue tracking – allows comparing expected and actual numbers)

Credit status updates – monitor all invoices and financial information

Scaling digital process automation

On-demand integrations like QuickBooks, MS Teams, SharePoint
These features might make you curious, but we're only scratching the surface. In this post, we discuss how Microsoft Dynamics 365 operations can help your business grow.
Improve Every Part of Your Business Using Microsoft Dynamics 365 for Operations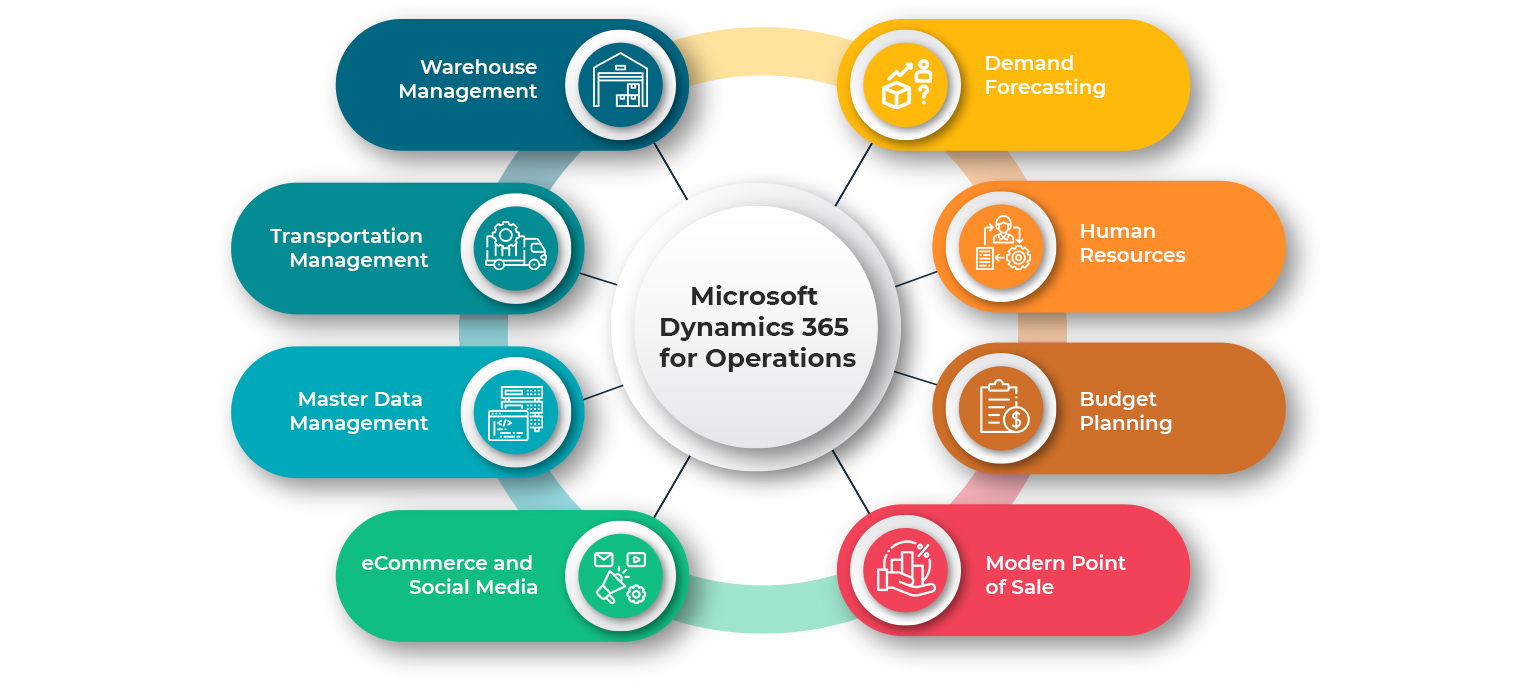 Besides the Dynamics 365 supply chain management, the CRM has several features that can streamline all parts of a business's operation:
Microsoft Dynamics 365 has warehouse management features that help businesses provide consumers with a better buying experience. It does this by enabling businesses to automate warehouse processes, which reduces operational costs and can result in lower prices for customers.
Dynamics 365 incorporates agile processes to provide customers with the flexibility of delivery by:
Supplying advanced picking strategies such as cluster picking.

Allowing the incorporation of advanced put-away strategies for inbound goods.

Helping employees configure workflows without coding. They can use filters to implement a custom workflow.

Providing workers with handling instructions based on system rules or as advised by managers.

Registering serial numbers in the picking process to efficiently track and trace goods.

Optimizing transportation by automating weight and volume calculations for containerization. 

Managing sales order returns according to the warehouse workflow.
Transportation Management
By employing Microsoft Dynamics 365 Operations features, a business introduces global enterprise transportation planning and execution capabilities into its operations. 
A growing business's demands are always changing. The Transport Management System integrated into Dynamics 365 helps manufacturers, distributors, and retailers keep up with their customer's needs. 
The TMS features enable effortless transportation planning for inbound and outbound shipments and multi-shipment loads. Other benefits of the TMS include easy shipment consolidation and load building.
Dynamics 365 also makes sending advanced shipping notices to customers. The driver check-in/check-out and driver log management features help manage docks without much hassle. 
Checking transportation rates by carrier becomes simple since Dynamics 365 allows you to configure rating structures based on factors such as toll charges, customer constraints, and fuel prices.
MDM allows businesses to synchronize data across the systems running Dynamics 365. The "master data" is stored safely in a central data storage, synchronizing the data with every running instance of Dynamics 365. Synchronization takes place automatically on a set schedule. 
The MDM feature of Dynamics 365 uses SQL MDM as the central data store, which is preconfigured to support the synchronization of vendors, employees, customers, and product entities. You can extend the master data coverage by customizing the data import/export framework's entities. 
The data filtering feature allows you to limit the records pulled from the master data storage to a specific instance. This is done by defining a view that retrieves a specific data subset. 
MDM is one of the best features of Microsoft Dynamics 365 Operations because it ensures the data is consistent across the organization. The assured data integrity helps improve data analysis.
Another nice thing about MDM is that when two instances make different updates to the same record, the tool recognizes the conflict, and the records are flagged in the master data storage. 
The admins are alerted about the conflict and can manually use the SQL MDM services to resolve the conflict.
E-Commerce and Social Media
One of the best things about Microsoft Dynamics is it enables businesses to connect to and engage customers with its integrated end-to-end omnichannel marketing tools. 
The enhancements allow retailers to connect with their followers on Facebook, Twitter, and Pinterest. Defining campaigns becomes a breeze with Dynamics 365.
By employing this connected solution, retailers can maximize their marketing investments while providing customers with a superior shopping experience.
Setting a multi-language storefront with Dynamics 365 is easy. You can set up the site to offer several delivery options. 
Using Dynamics 365 is much faster and more convenient since it offers several out-of-the-box storefronts with publishing capabilities and check-out flows. These storefronts can be customized to suit your brand's theme.
The built-in demand forecasting features make it simple for organizations to forecast demand based on historical data. The tool uses SQL server forecasting algorithms for this purpose. The forecasts can be adjusted using Excel and imported into Microsoft Dynamics 365. 
The easy-to-use forecasting features allow companies to improve customer product availability and optimize inventory costs. Dynamics 365 also supports iterative forecasting and baseline forecast visualization. 
Excel and SharePoint can be used to edit the visualizations, and the data can easily be imported into Dynamics 365.
Employees' skills and efforts are some of the most valuable assets to a business. The human resources feature simplifies the administration of employee and organizational information. 
The HR and Payroll Analysis Cubes allow you to create custom reports with the help of Excel, Power View, and QSQL Server Analysis Services. Power View enables the visualization of monthly, quarterly, or yearly turnover percentages in minutes. 
Tracking and managing hires, transfers, promotions, and terminations are made easy for managers. Managers can also define organizational benefit plans and enroll employees in benefits. Assigning dependent coverage and designating beneficiaries can be done in a few clicks.
Dynamics 365 also has features to help employees improve and optimize their performance. After reviewing employee performance, managers can create and implement goals for employees. 
Distributing training courses is another possibility that Dynamics 365 opens up. The software also makes checking the demographic information and analyzing other key data about the course simple. 
Microsoft Dynamics 365 operations feature facilitates the allocation of amounts based on ledger allocation rules. 
The budget planning features appeal most to businesses with formal budgeting processes, where budget managers do their due diligence and send the budget plans out to higher-ups to review and approve.
The Dynamics 365 POS allows businesses to cater to the modern consumer. Modern customers understand that they live in a connected world and know what they need before they walk into the store.
Besides offering basic transaction features, Dynamics 365 empowers employees by providing back-office capabilities at their fingertips. 
One of the most impressive things about Microsoft Dynamics 365 operations is that the assisted sales solution automatically consolidates every customer's purchase data. This helps the sales associates be more helpful to customers.
Another benefit of Dynamics 365 is the customizability of the interface's look, feel, and operation. Different user profiles are given privileges according to their role in the business. 
What is Dynamics 365 Supply Chain Management?
Dynamics 365 Supply Chain Management is Microsoft's enterprise-scale supply chain solution. It enables operations leaders to streamline and manage manufacturing and supply chain processes. 
It boasts several AI and IoT-enabled features that empower operations heads to optimally organize planning, production, inventory, warehouse, and transportation. 
Besides improving operational efficiency, Dynamics 365 Supply Chain Management features enhance profitability and product quality. 
Microsoft Dynamics 365 Supply Chain Management Features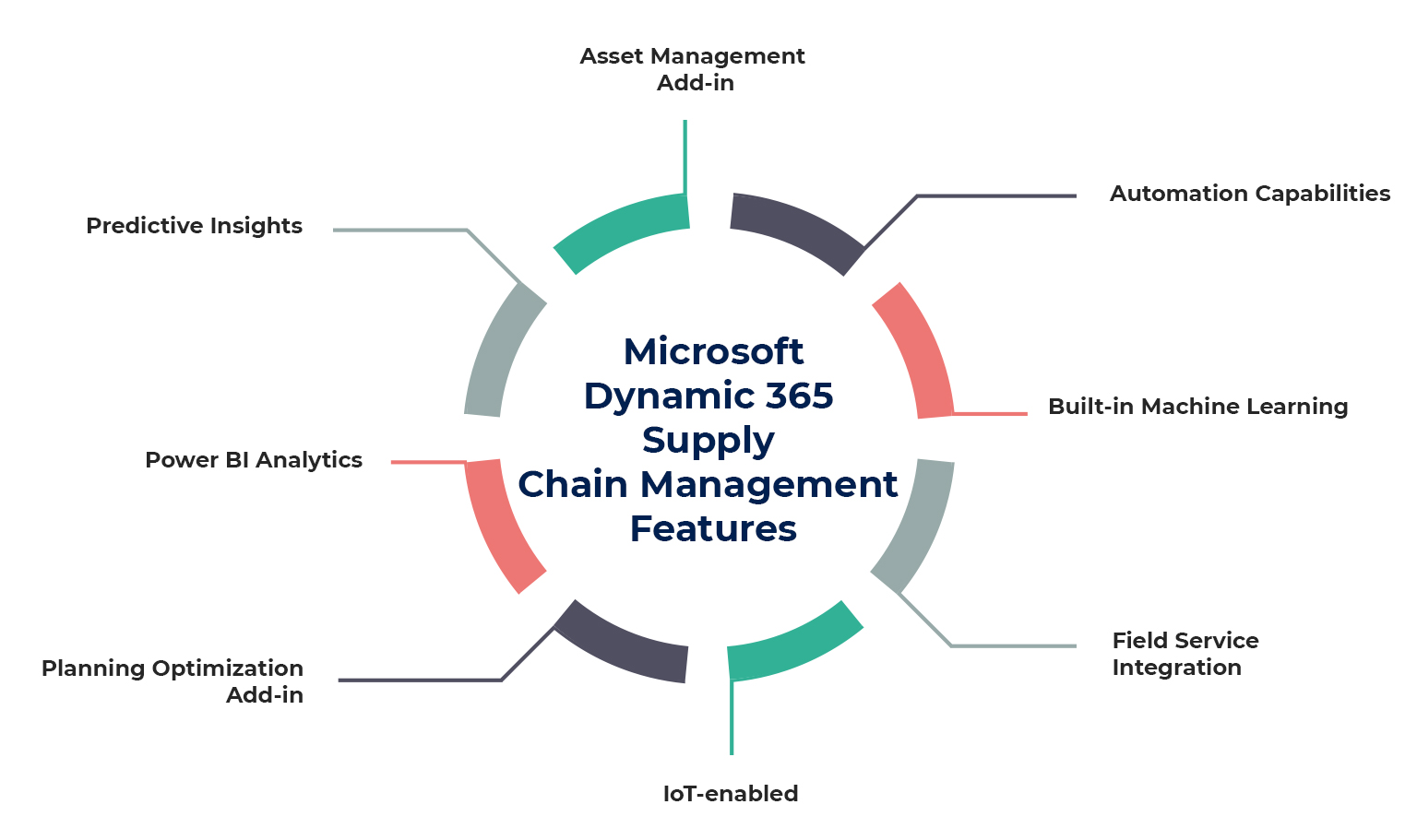 Dynamics 365 Supply Chain Management features include:
Asset Management Add-in:

The add-in enables businesses to predict, plan, and proactively perform maintenance. Facilitating all kinds of maintenance, from preventive to corrective, it helps businesses extend the life of their equipment. 

Automation Capabilities: Dynamics 365 Supply Chain Management

enables businesses to automate all manufacturing processes. It also helps optimize warehouse use and scale warehouse management. 

Built-in Machine Learning:

The integrated machine learning capabilities continually give businesses insights that help manage inventory. Managing raw materials and finished goods is another advantage

of Dynamics 365 Supply Chain Management

. 

Field Service Integration:

Dynamics 365 Field Service comes built-in, making it easy to automate resource management. It also makes tracking and managing the workforce, tools, and machines easy.

IoT-enabled:

IoT, mixed reality, and other cutting-edge technologies come integrated into Dynamics 365, making it easy for businesses to build connected factories. The IoT capabilities help businesses manage shop floors and equipment operations proactively. 

Planning Optimization Add-in:

The add-in lets manufacturing businesses plan production in real time while factoring in variables like material availability, customer demand, and capacity constraints across warehouses. 

Power BI Analytics:

Speeding up inbound and outbound processes becomes achievable for organizations with Dynamics 365, thanks to the embedded Power BI analytics. It supplies real-time intelligence about warehouses and also provides end-to-end visibility into inventory and shipping.

Predictive Insights:

The predictive insights supplied by Dynamics 365 allow businesses to identify potential equipment issues before breakdowns. It helps prevent downtime and costly maintenance costs. 
3 Ways Microsoft D365 for Supply Chain Management Increases Factory Efficiency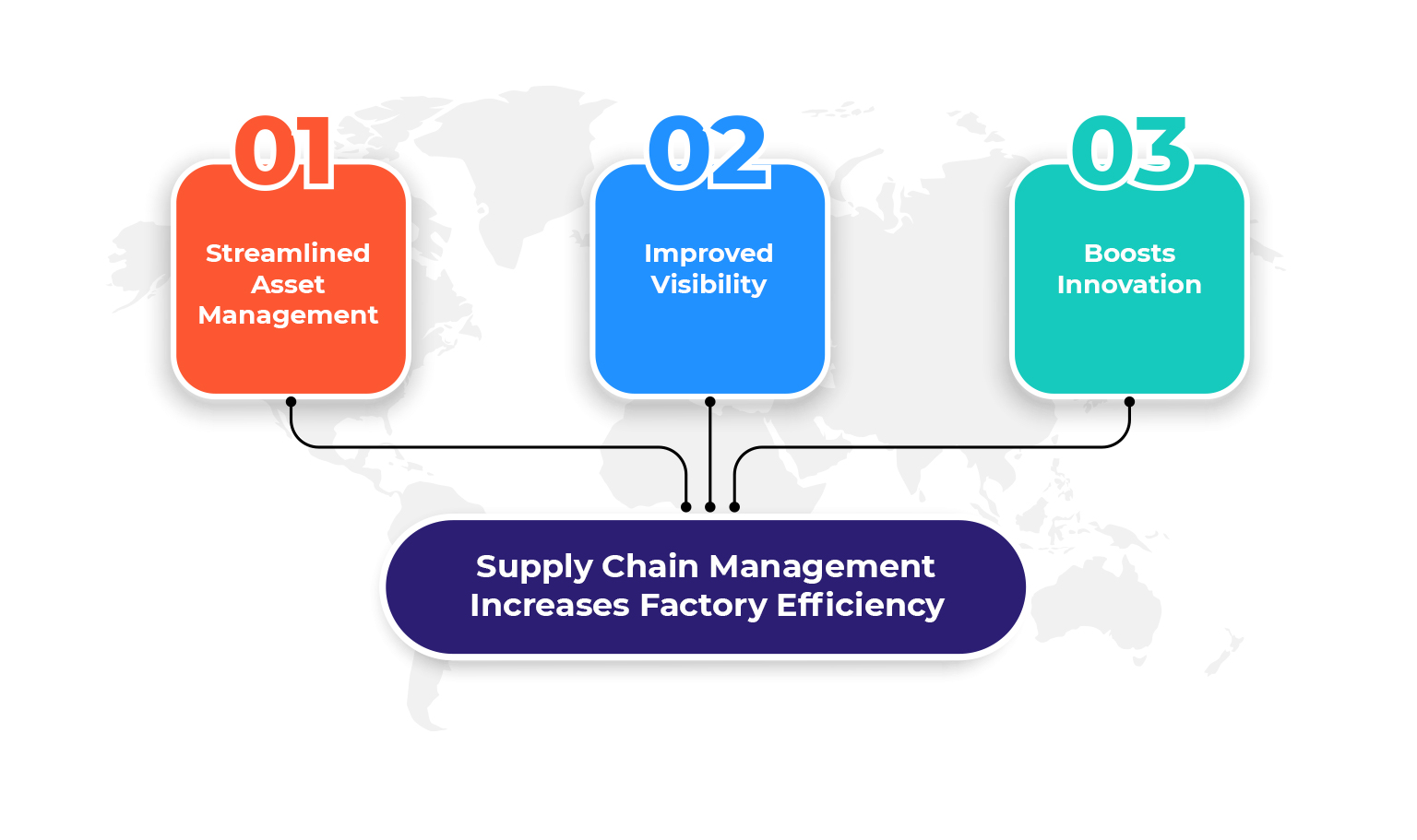 Besides improving efficiency, Microsoft D365 can lower costs and improve flexibility in the following ways:
Streamlined Asset Management
Dynamics 365 collects data in real-time, helping create connected factories and resolving issues proactively. 
By monitoring machines and preventing breakdowns, Dynamics 365 broadens organizational visibility and ensures the business is as productive as possible.
Maintaining critical assets and providing excellent customer service become second nature.
By integrating the sales and purchasing processes with logistics and continually supplying insights, Dynamics 365 streamlines factory operations. 
Businesses can automate requests for reports from all teams. Besides making managing operations easier, it helps reduce errors throughout the supply chain.
The enhanced visibility unifies process oversight and improves decision-making and service quality. 
Dynamics 365 allows businesses to gain insights about their products and consumers with a data-driven approach. It tracks errors and inefficiencies and helps businesses continually improve their products. It collects data to help improve manufacturing techniques and marketing strategies.