This website uses cookies to ensure you get the best experience on our website.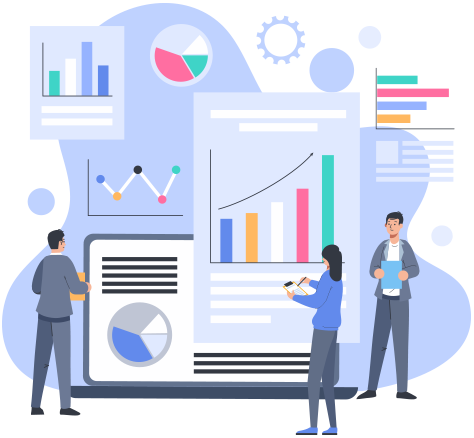 Welcome to a new era of HR Analytics, where knowledge transforms the way, you manage your workforce. Experience the power of data-driven decision-making and unleash the full potential of your HR strategies. Join us on this transformative journey today.

What You Get
with HR
Analytics?
Make Informed Decisions
Trust real-time data instead of guesswork. With "Ready to Use - Power BI HR Analytics," you can rely on accurate insights to make informed HR decisions. Leave intuition behind and embrace the power of data-driven decision-making for improved outcomes.
Streamline HR Operations
Say goodbye to manual reporting and tedious processes. Our product automates data collection and reporting, saving you time and effort. Identify bottlenecks, optimize workflows, and streamline HR operations for enhanced efficiency and productivity.
Nurture Top Talent with Confidence
Identify High-Potential Employees
Spot future leaders effortlessly. With "Ready to Use - Power BI HR Analytics," you can easily identify employees with the highest potential for leadership positions. Nurture talent and ensure your organization's continued success.
Plan for Succession
Prepare for the future and secure your talent pipeline. Our HR analytics application helps you develop robust succession plans, minimizing the risk of losing key talent and ensuring a smooth transition.
Product Name: Power BI - HR Analytics Application

Product Cost: $999 (USD)
Delivery Time: 5 Business Days

Simplicity Meets Power
What's Included in the Package
5 Hours Sessions on Requirements Analysis
5 Hours Support for Design Changes (Logo, Colors) as per Brand Guidelines
10 Hours Support on Dashboard Customization for Pre-Listed Dashboards – Executive Summary, Diversity, Talent Acquisition, Performance & Turnover
3 Hours Data Validation Motion
2 Hours Live Training Session
Additional Services Available
Data Modeling and ETL processing
Custom Report Development
Role-based Security
Custom Data Integration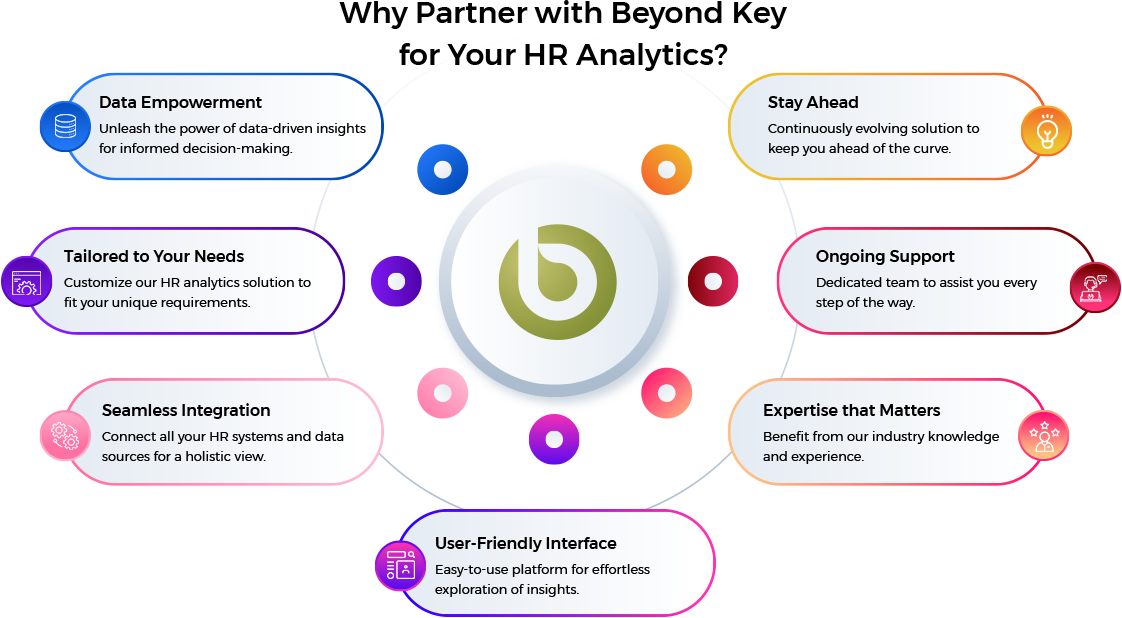 Unlock the Power of HR Analytics with Beyond Key

Gain Actionable Insights
Access visually appealing and interactive dashboards that transform your HR data into actionable insights. Make data-backed decisions confidently and drive positive change within your organization.

Stay Informed in Real Time
Keep up with the latest HR trends and changes. "Ready to Use - Power BI HR Analytics" gives you access to real-time data, empowering you to adapt swiftly in today's dynamic business landscape.

Customize to Fit Your Needs
Tailor the dashboards to your specific requirements. Focus on the metrics and visualizations that matter most to your organization. Experience a personalized HR analytics solution that aligns perfectly with your goals.

Seamless Data Integration
Connect and integrate with your existing HR systems and data sources effortlessly. Gain a comprehensive view of your HR analytics, ensuring a complete understanding of your workforce.
Experience the Future of
HR Analytics from Beyond Key Actionable Insights
Discover valuable insights that propel your HR strategies forward. Our intuitive dashboards extract actionable information from your HR data, empowering you to make smarter decisions. Real-time Data
Stay up to date with real-time HR data. "Ready to Use - Power BI HR Analytics" provides you with the latest trends and metrics, ensuring you're always one step ahead. Simple and Powerful
Our user-friendly interface makes navigating HR analytics effortless. Experience the simplicity and power of our solution, designed to elevate your HR operations.
Don't miss out on the opportunity to revolutionize your HR strategies. Get started with "Ready to Use - Power BI HR Analytics" today and unlock the true potential of your HR data.
Transform My HR Landscape!
Contact
Us
Use the contact form below for any questions or requests related to our services.