This website uses cookies to ensure you get the best experience on our website.
Committed to Deliver Fully functional Magento
Ecommerce Store
We are a team of 300+ Technocrats dedicated to deliver Magento commerce & eCommerce Platform development service. Since Magento's inception (Now Adobe Commerce Cloud), we are enabling businesses to transform their vision into reality through custom Magento Development services.
Why Us
0

+

Years of Experience

0

+

Skilled Experts

0

+

Product Downloads

0

+

Clients
Our Magento Development
Services
We transform your business idea into a simple yet cost effective and attractive Magento based ecommerce portal.
This enables you to reach out to the global audience in less time.

eCommerce Store Development

Responsive Web Design 

Theme Design

Template Design 

Integration

Extension

Version Upgrade

Mobile Development

SEO

API Development

Platform Testing

Support & Testing

Cross Platform Migration

Consulting

eCommerce Strategy
Magento 2
Development
Expertise
Whether you are just planning to step into the eCommerce domain or want to take your running store to the next level, we are there to assist you with our wide-range of Magento development services.

Magento Store Development
Our expert Magento 2 developers assist you in developing bespoke eCommerce online stores and providing industry-specific solutions to improve business profitability.

Custom Magento 2 Development
Being a leading Magento 2 development company, we provide custom eCommerce development services as per client's needs, whether for new store or for existing store.

Magento Marketplace Development
If you're looking to build a marketplace, then we're here to help you. We've experience in developing a marketplace for the entertainment and gambling industry.

Magento Extension Development
Our Magento developers can help you develop user-friendly, easily accessible, scalable, and customizable Magento extensions to develop feature-rich eCommerce store for your online business as per the requirements.

Responsive Magento Theme Design
Our developers design & develop innovative Magento 2 themes that are responsive, intuitive, and customized for the eCommerce industry to offer best user experience adhering to Magento 2 standards.

Magento Support And Maintenance
We have a team of skilled Magento 2 developers to provide Magento shopping cart support and maintenance services after development of an eCommerce store. Hire Magento developers from us on hourly slots for support & maintenance.
Why Choose Magento for eCommerce Development?
Being an open-source, Magento eCommerce store development is readily available and widely-used eCommerce platform across the globe.
Versatile & flexible
Currency and Language Support
Custom Integrations
Secure Order Preferences
Extended Software Protection
High Performance andSpeed
Complete responsive configuration
Mobile and SEO Friendly
Fast Loading Store
Responsive eCommerce Site
End to end Development
Advanced Security and Scalability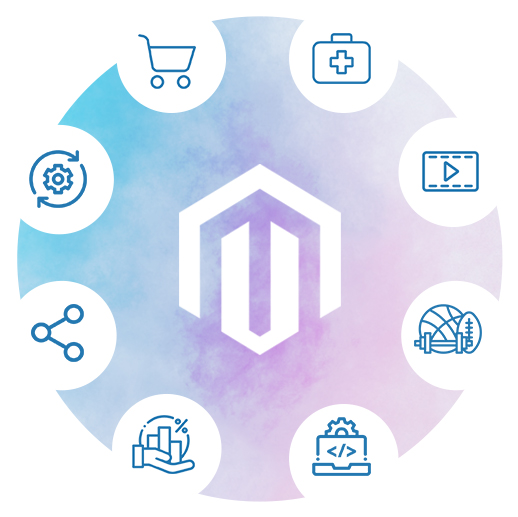 Providing the Most Appropriate Solution for Leading Industries Using Magento
We have experience in working with each leading industry so far. Whether it's startups, small, medium, or enterprise-level businesses, we provide comprehensive solutions for every business at very affordable rates.
eCommerce
Media & Entertainment
IT Services
Social Media
Healthcare
Sports & Gambling
Business Services
Barter System WordPress Development
We provide WordPress development services like website design, WordPress speed optimization, WordPress SEO, and a focus on visitors better user experience. Shopify Development
We offer a wide range of Shopify development services for providing secure, scalable, robust, fast, and high-quality web development services for various industries. Drupal Development
Drupal websites developed by our developers are secure, innovative, scalable, modular and, above all, feature-rich and built to meet end-user needs.


Why do you suggest Magento 2 overother eCommerce platforms?
When you start an eCommerce business, it's important to choose the right platform for the website that will perfectly suit your needs and goals. Magento 2 is one of the most popular and best eCommerce platform to choose from because it offers:
Ease of use.
Offers advanced features like integration with Amazon, eBay, ElasticSearch, etc.
Modules and extensions.
Supported inventory size.
Open Source version along with commercial.
Best fit for any business from SME to Enterprise.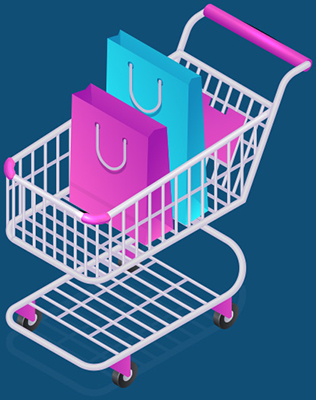 Our Solutions
Driven Process

Requirement Gatheringand Analysis

Brainstorming Sessions to SolidifyDevelopment Plan

Design and Development

Storefront Configurationand Integration

Testing and QA

User Feedback and Testing

Client Approval and Review Cycle

On-demand Support
Resources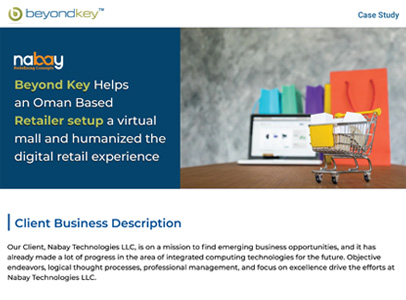 Oman based retailer creates a Virtual Shopping experience by building one of the largest Virtual malls.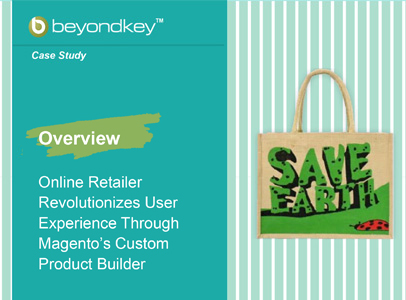 The US-based online retailer gets a full-fledged Magento eCommerce website with custom product builder functionality
FAQs
Do you provide maintenance and support services after Magento 2 development?

Answer: Yes, we provide maintenance and support services after Magento 2 development. All kinds of support including features enhancement and runtime modification to make application compatible with associated third parties.

If I want to replace service providers for smooth and systematic processes. Do you have the expertise to manage high service quality levels for the project?

Answer: Yes, we can take over any existing magento2 project with any stage. It should have proper documentation and clear requirements to suggest the best development/support plan.

How secure will my Magento2 website be?

Answer: We are an ISO 27001 certified company. We follow all kinds of security measures for development procedures i.e., using secure keys to access servers, using secure repositories for application codebase and timely inspection of all applications and servers for security & vulnerabilities detection.

How do you test your code quality?

We use PHP and Magento best practice with standard tools like PHP_CodeSniffer for code quality and Blackfire for profiling.

What types of API does Magento Commerce have?

Magento commerce use GraphQL, REST (Representational State Transfer) and SOAP (Simple Object Access Protocol). We provide support for all type of APIs.

Do you provide Magento mobile app development services?

We provide Magento mobile apps development services for Android, iOS and Hybrid Apps.

Why do I need to upgrade my Magento 1 store to Magento 2?

Magento/Adobe stopped providing support for Magento 1 and there are lots of features ease of working with Magento command prompt has available to Magento2.

Does Magento support providing omnichannel experience to customers?

The latest version Magento 2 facilitates the seamless development of the Magento omnichannel retail store. It gives real-time insights into your inventory through multiple channels. Moreover, it brings retailers, dealers, customers and investors together, and keeps them updated with the latest developments about e-commerce feature stores.

What are benefits of a PWA & are you working on Magento PWA development?

A PWA eCommerce platform uses a variety of performance optimization and responsive design strategies to load content fast on any network and provide a consistent experience across: Desktops , Tablets , Smartphones. Yes, we work for PWA development and support.
Contact
Us
Use the contact form below for any questions or requests related to our services.