Beyond Key celebrates its Annual event – Heartbeats 2022 with fun and frolic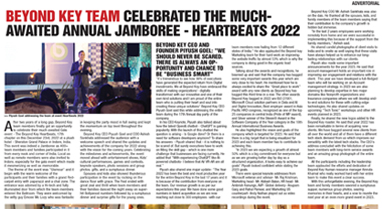 Beyond Key team celebrated the much-awaited annual Jamboree - Heartbeats 2022 in a gala way.
After two years of a long gap, Beyond Key team members finally got an opportunity to celebrate their much-awaited Gala event – The Beyond Key Heartbeats, 17th chapter on this December 23rd, 2022 at a plush hotel – Sheraton Grand Palace in Indore, India. This event was indeed a Jamboree as 400+ team members and families participated in it from every nook and corner of India. Local as well as remote members were also invited to Indore, especially for the gala event which made it mesmerizing as well as memorable.
Beyond Key CEO Piyush Goel and COO Ashish Sankhala addressed the audience with a welcome speech and shared the updates and achievements of the company for 2022 along with the vision for the coming years. Celebrating the milestones and achievements, the event moved ahead with entertainment shows, Kids' cultural performances, games and contests, keynote speakers, photo sessions and group photos, gifts, and a sumptuous dinner.
Piyush Goel said that "We should never be scared. There is always an opportunity and chance to be "Business Smart" . "It's tremendous to see how 99% of executives have generated the expected return from Digital investments. We at Beyond Key have embraced the skills of making organizations'– digitally transformed with our innovative and one of their own kind solutions and I am proud of the entire team who is putting their heart and soul into creating these unique solutions" Beyond Key CEO Piyush Goel said this while addressing the entire team during the 17th Annual day party of the company.
He also highlighted the vision and goals of the company which is targeted for 2023. He said that there is a big target that is being visualized for 2023 and each team member has to contribute to achieving this.
The CEO's address concluded with the felicitation of some team members with long-term service awards and an amazing group photograph of the entire team.
All the participants including the leadership team applauded the efforts and dedication of Beyond Key Human resource manager Amruta Gupte who really worked hard with her entire team to make this event a clear success.
About Beyond Key:
Beyond Key has been providing software consulting services to clients around the world since 2005. Beyond Key has a team of 275+ domain experts in various cutting-edge technologies. Beyond Key is a Microsoft Gold Partner and recently endorsed as Great Place to Work (an industry's leading certification standard) for the third time in a row. Beyond Key is also a gold winner for the Company of the Year by Stevie International Business Awards, IT Service Provider of the Year by Titan Awards, and bronze winner of the Most Customer Friendly Company of the Year by the Best in Biz Awards.