Beyond Key welcomes QSC CIO to Indore development center, discusses future strategic plans.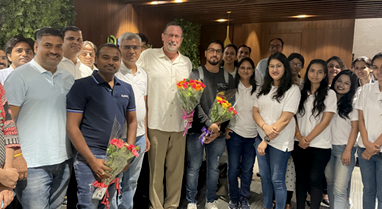 Indore, July 12, 2022: We are pleased to share that recently we welcomed our esteemed client - Claudé E. Zamboni, Chief Information Officer for QSC Audio, at Beyond Key's Indore-based development center in June. Beyond Key assisted QSC with several initiatives over the course of a 12-year partnership, including developing and integrating their eCommerce system, a SharePoint intranet portal, and business intelligence and data visualization project.
On his visit to the Indore office, Claudé met with the various project teams and discussed in detail the upcoming ventures QSC wants to accomplish in the next two years. Our project leads did not miss any opportunity to share innovative solutions they developed on cutting-edge technologies.
One of the projects we worked on with them over the past five years is the Moodle Learning Management System. This year, we talked extensively about how we plan to modernize the project and incorporate new features to increase the value of their training business.
This time, we are happy to welcome two of their Bengaluru-based IT team members as well, enhancing our team's collaboration and maximizing the potential of the extended IT team model we are using with QSC.
The most crucial component of this client-partner relationship, which we already established with QSC is trust. Our team always believed in going above and beyond to assist QSC after business hours.
As their extended IT department, we continuously conduct innovative studies and advise them on emerging technologies and business procedures that will benefit their operations and enable them to streamline more of their current action items. This helps us maintain our long-lasting relationship with QSC as their extended IT partner team and follow our core values which says, "Happy clients- Happy team members."
About Beyond Key:
Beyond Key has been providing software consulting services to clients around the world since 2005. Beyond Key has a team of 275+ domain experts in various cutting-edge technologies. Beyond Key is a Microsoft Gold Partner and recently endorsed as Great Place to Work (an industry's leading certification standard) for the third time in a row. Beyond Key is also a gold winner for the Company of the Year by Stevie International Business Awards, IT Service Provider of the Year by Titan Awards, and bronze winner of the Most Customer Friendly Company of the Year by the Best in Biz Awards.