Microsoft 365 Tech Community Indore Witnesses Massive Success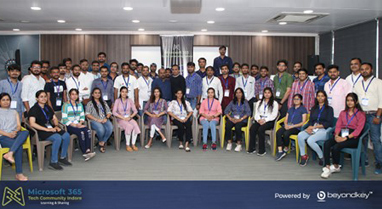 Indore, India, May 24, 2023: Indore witnessed one of the most valuable events on May 20, 2023: The Microsoft 365 Tech Community Indore Meet, which was a tremendous success, with over 100 attendees from across the region. The event was powered by Beyond Key, a leading Microsoft 365 partner, and featured a lineup of experts who shared their insights on the latest trends and technologies in the Microsoft 365 space.
"We were thrilled with the turnout for our first-ever event in Indore," said Bhupendra Singh, M365 consultant at Beyond Key and organizer of the event. "The interest in Microsoft 365 is clearly growing in this region, and we're excited to be at the forefront of helping businesses adopt and use these powerful tools."
The event kicked off with a keynote address from Kirti Prajapati, Microsoft MVP and a Modern Workplace Architect. The second guest speaker was Sanket Pandya, SharePoint Consultant with 12 years of experience. Both experts shared their insights on the future of Microsoft 365 and how it can help businesses of all sizes transform their operations. They also highlighted some of the latest features and capabilities in Microsoft 365, such as Teams, Power BI, and SharePoint solutions.
The event featured a number of breakout sessions on topics such as:
Extend Microsoft Viva Connections with SPFx
Process Mining with Power Automate
Power Apps deployments using Azure DevOps
Attendees had the opportunity to learn from experts and network with other professionals in the Microsoft 365 community. They also had the chance to ask questions and get hands-on experience with the latest Microsoft 365 tools and technologies.
"The event was a great opportunity to learn about the latest trends in Microsoft 365 and how they can be applied to my business," said one attendee. "I also appreciated the opportunity to network with other professionals in the community."
The Microsoft 365 Tech Community Indore Meet was a huge success, and it is clear that there is a growing demand for Microsoft 365 expertise in this region. Beyond Key is committed to providing businesses in Indore and the surrounding areas with the resources they need to adopt and use Microsoft 365 effectively.
"We're excited to continue to grow the Microsoft 365 Tech Community in Indore," said Singh. "We believe that these tools have the potential to transform the way businesses operate, and we're committed to helping businesses in this region realize that potential."
About Beyond Key:
Beyond Key has been providing software consulting services to clients around the world since 2005. Beyond Key has a team of 275+ domain experts in various cutting-edge technologies. Beyond Key is a Microsoft Gold Partner and recently endorsed as Great Place to Work (an industry's leading certification standard) for the third time in a row. Beyond Key is also a gold winner for the Company of the Year by Stevie International Business Awards, IT Service Provider of the Year by Titan Awards, and bronze winner of the Most Customer Friendly Company of the Year by the Best in Biz Awards.