Beyond Voice announces new AI-powered Tawq voice intelligence platform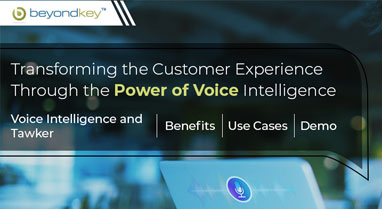 Chicago, Jul 15, 2020 (Issuewire.com) - Beyond Voice (a Beyond Key company), a world-class software firm, is announcing the launch of their new AI and NLP-powered voice intelligence platform, Tawker. The software helps organizations improve their customer experience, agent performance, and operational efficiencies.
While the platform can help any enterprise that wants intelligent voice transcriptions and analytics, many insurance and financial call centers find this software helpful in determining customer's sentiment towards their company, agents, and products. At the same time, agent sentiments are tracked to ensure they provide the best service possible.
To showcase how Tawq can help your organization, Beyond Key will host a live webinar on July 21st at 12 PM CST called the Customer Experience Through the Power of Voice Intelligence. This webinar explores how to use Tawqs' sentiment analysis, word clouds, and other voice transcription analysis tools to improve the quality of your customer calls.
As Beyond Key CEO Piyush Goel stated, "Tawq helps companies gain an intelligent advantage they can use to improve their customers' experience."
About Beyond Key: Software development and IT consulting company Beyond Key offers consulting, technology, and outsourcing solutions that cater to clients in the United States, Australia, MENA, and Europe.
The Beyond Voice division offers voice tech solutions including custom voice-based solutions, chatbots, voice transcription, NLP, and behavioral analysis services.
Beyond Key is also a Microsoft Gold Partner headquartered in Chicago with an offshore development center in Indore, India. The company delivers enterprise-level web, mobile, and cloud applications, cross-platform integrations, custom development, and software consulting services to start-ups and small to mid-size organizations.
Beyond Key serves clients from several industry verticals, including healthcare, education, manufacturing, insurance, finance, eCommerce, logistics, and non-profits.
The organization was recently awarded the Best in Business award and certified as a Great Place to Work.