Beyond Key Win The Gold Stevie® Award in 2021 International Business Award®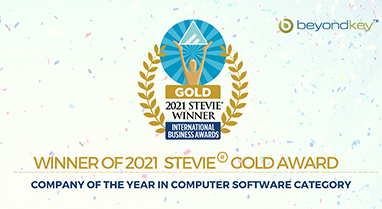 Chicago, Illinois Aug 16, 2021 (Issuewire.com) – Beyond Key was named the winner of a Gold Stevie® Award in the Company of the Year for Medium-Sized Computer Software companies' category in The 18th Annual International Business Awards® today.
The International Business Awards are the world's premier business awards program. All individuals and organizations worldwide – public and private, for-profit and non-profit, large and small - are eligible to submit nominations. The 2021 IBAs received entries from organizations in 63 nations and territories.
As the ongoing COVID-19 crisis will prevent winners from receiving their awards on stage during a traditional gala IBA banquet, winners will be celebrated instead during a virtual ceremony on Wednesday, 8 December.
Over 3,700 organizations of all sizes and in virtually every industry were nominated this year for consideration in a wide range of categories. Beyond Key won the Company of the Year category for Medium-sized Computer Software companies.
Piyush Goel, Beyond Key's CEO, stated, "The Company of the Year award proves how hard our team works to ensure clients get the best service. Our flexible global delivery model and software development experience helped us thrive despite the pandemic."
The judges were particularly impressed that Beyond Key could balance their primary goal of happy clients and happy employees even during tough times like Covid. They appreciated how their impressive 25% year-over-year growth rate happened during the pandemic. The amazing growth rate shows their dedication to employees and customers.
Stevie Award winners were determined by the average scores of more than 260 executives worldwide who participated in the judging process from June through early August.
"What we've seen in this year's IBA nominations is that organizations around the world, in every sector, have continued to innovate and succeed, despite the setbacks, obstacles, and tragedies of the ongoing COVID-19 pandemic," said Stevie Awards president Maggie Gallagher. "All of this year's Stevie Award winners are to be applauded for their persistence and their resilience. We look forward to celebrating their achievements with them during our 8 December virtual awards ceremony."
Details about The International Business Awards and the lists of Stevie Award winners are available at www.StevieAwards.com/IBA.
About Beyond Key: Since 2005, Beyond Key has been providing global Software Services and Solutions to clients globally, including the US, UK, Europe, and Australia.
The company provides digital transformation and product engineering services by delivering enterprise-grade and consumer-focused applications across verticals.
With a team of 200+ domain experts, they help clients with cutting-edge technologies, including Artificial Intelligence, NLP, Machine Learning, Voice Intelligence, Modern Data Warehousing, BI, and Microsoft 365.
Beyond Key is a Microsoft Gold Partner and recently endorsed for the second year in a row as 'Great Place to Work' (an industry's leading certification standard).
Finally, Beyond Key is also a gold winner for Company of the Year (2021) and silver winner in the 'Most Customer Friendly Company of the Year' (2019) for the Best in Biz Awards.
About the Stevie Awards
Stevie Awards are conferred in eight programs: the Asia-Pacific Stevie Awards, the German Stevie Awards, the Middle East & North Africa Stevie Awards, The American Business Awards®, The International Business Awards®, the Stevie Awards for Women in Business, the Stevie Awards for Great Employers, and the Stevie Awards for Sales & Customer Service. Stevie Awards competitions receive more than 12,000 nominations each year from organizations in more than 70 nations. Honoring organizations of all types and sizes and the people behind them, the Stevies recognize outstanding performances in the workplace worldwide. Learn more about the Stevie Awards at www.StevieAwards.com.