Beyond Key: The Dark Horse in Boosting Economies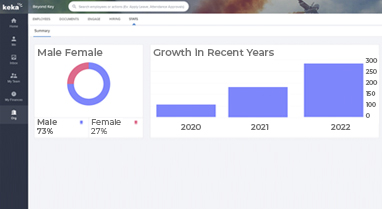 Information technology (IT) is now essential to how businesses run. Companies that invest in high-quality IT services and experts are better prepared to compete in today's digital market. That is what Beyond Key has been consistently providing with its IT services and experts, giving businesses the tools and knowledge they need to be more productive, cut costs, and make more money.
One of the most critical ways that Beyond Key's IT services and experts are helping companies grow is by assisting them in using digital technologies and automation. For instance, IT experts are helping companies automate tasks that are done repeatedly, saving time and money. They are also assisting businesses to use new technologies like cloud computing, big data analytics, and artificial intelligence (AI), which are helping companies make better decisions and work more efficiently.
IT services and experts from Beyond Key are assisting companies in growing in another way by helping them improve their cybersecurity. Cybersecurity is a significant concern for businesses of all sizes, and Beyond Key is assisting businesses to protect their sensitive information and stop data breaches. They also help companies follow the rules and standards like the General Data Protection Regulation (GDPR) and the Payment Card Industry Data Security Standard (PCI DSS).
IT services are critical to digital transformation and help businesses grow. Digital transformation is using digital technologies to fundamentally change a company's way of doing business. IT services and experts can help enterprises figure out what parts of their operations can be changed and put the necessary technologies and processes in place.
Even though IT is a growing field, more women should be a part of the ecosystem. Beyond Key knows this and has always emphasized empowering women. 27% of the team members at Beyond Key are women. That is a lot more than the benchmark for the IT sector as a whole.
Beyond Key believes that having more women in tech makes for a better product that helps a much larger audience. A better product means better revenue for the company and growth from year to year. Gender diversity gets rid of the bias against women that exists in today's male-dominated businesses. Diversity in terms of race and gender is also linked to a safer workplace and fewer people leaving their jobs.
Lastly, Beyond Key's IT services and experts are proving to be essential to the growth of a country's economy as a whole. Beyond Key's IT services and experts consistently contribute to a country's economy and create jobs by assisting businesses to grow and change in the digital world. They also make businesses more competitive and help bring new businesses to a country.
In conclusion, companies' growth, digital transformation, and a country's economy depend on IT services and experts. Companies that invest in high-quality IT services and experts are better able to compete in today's digital market and take advantage of the many opportunities that digital technologies and automation offer.
About Beyond Key:
Beyond Key has been providing software consulting services to clients around the world since 2005. Beyond Key has a team of 275+ domain experts in various cutting-edge technologies. Beyond Key is a Microsoft Gold Partner and recently endorsed as Great Place to Work (an industry's leading certification standard) for the third time in a row. Beyond Key is also a gold winner for the Company of the Year by Stevie International Business Awards, IT Service Provider of the Year by Titan Awards, and bronze winner of the Most Customer Friendly Company of the Year by the Best in Biz Awards.