Beyond Key Walks Away Victorious in the 2021 TITAN Business Awards' Second Season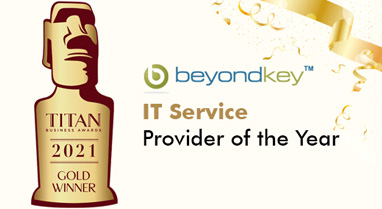 Chicago, Illinois Nov 15, 2021 – TITAN Business Awards proudly announces the 2021 results celebrating the achievements businesses gained this year. There were over 1,200 nominations from over 50 countries around the world, including the United States, United Kingdom, Canada, Finland, Germany, Switzerland, Brazil, Hong Kong, India, and Malaysia, and more.
This season, Beyond Key claimed the TITAN Gold award in the competition.
Piyush Goel, Beyond Key's CEO stated, "We are constantly looking to improve our global delivery model to develop the type of software development experience that customers deserve. That is a core part of how we won the Gold IT Service Provider of the Year Award."
Throughout the year, TITAN Awards increased its influence with the assistance of International Awards Associate's (IAA) international prestige, capturing the attention of business entities and professionals worldwide. "Providing a platform to celebrate to multitudinous achievements of business entities and professionals around the world has been our aim since the beginning," said Kenjo Ong, CEO of IAA. "Therefore, with our current platform, we were able to do just that, elevating the standards of businesses everywhere."
About Beyond Key:
Since 2005, Beyond Key has been providing global Software Services and Solutions to clients globally, including the US, UK, Europe, and Australia.
The company provides digital transformation and product engineering services by delivering enterprise-grade and consumer-focused applications across verticals.
With a team of 250+ domain experts, they help clients with cutting-edge technologies, including Artificial Intelligence, NLP, Machine Learning, Voice Intelligence, Modern Data Warehousing, BI, and Microsoft 365.
Beyond Key is a Microsoft Gold Partner and recently endorsed for the second year in a row as 'Great Place to Work' (an industry's leading certification standard).
Finally, Beyond Key is also the winner of a Gold Stevie® Award in the Company of the Year for Medium-Sized Computer Software companies' category in The 18th Annual International Business Awards®.
About International Awards Associate (IAA)
IAA, established in 2015, is the organizer of MUSE Creative Awards, MUSE Design Awards, MUSE Photography Awards, MUSE Hotel Awards, Vega Digital Awards, Vega Students Awards, NYX Marcom Awards, NYX Game Awards, NYX Video Awards, TITAN Business Awards, TITAN Property Awards, LIT Talent Awards, NY Product Design Awards, New York Photography Awards, and iLuxury Awards.
IAA's mission is to honor, promote and encourage professional excellence, from industry to industry, internationally and domestically, through award platforms that are industry appropriate. IAA assembled TITAN Business Awards to bring attention to the international business industry and promote their strategies, cultures, and teamwork to the world.