How Beyond Key Turned the Tide in 2022 with Hiring Boost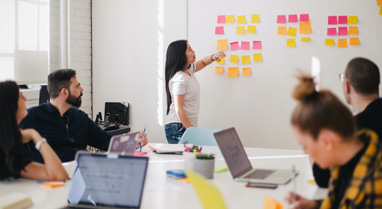 A robust business model is vital for a company's success, especially when the economy is terrible. That is what Beyond Key focused on in 2022. Their stable business model enabled them to handle changes in the market and gave the company a steady way to make revenue. A strong business model allowed Beyond Key to stay in business when the economy was slow and helped them drive business growth and hire new employees.
One of the ways Beyond Key was successful in implementing a good business plan was to find different ways to make revenue. They introduced several new technology services. This was done by offering a wide variety of goods or services and by going into new markets. By having different ways to make money, Beyond Key was able to lessen the effect of a drop in one area. A steady income from a stable business model lets Beyond Key plan for the future and make smart investments. This was one of the most important advantages for Beyond Key of having a sound business model. For example, if a business is sure that it will have a steady stream of cash, it may decide to invest in hiring more people to meet the needs of its customers better.
Building good relationships with clients and business partners is another way to make a business model that works. Beyond Key made sure to continue making money even when the economy was terrible by giving excellent customer service and building a base of loyal customers. Having good relationships with suppliers and distributors also helped make sure that money kept coming in. A stable business strategy also gave Beyond Key a chance to hire employees for the long term. During a time when the economy is bad, many companies may be afraid to hire new people because they are worried about the company's long-term prospects. On the other hand, Beyond Key felt more confident about hiring more people as it had a steady source of income and a tried-and-true way to run its business.
Controlling costs is another essential part of a good business plan. During a recession, when there is less money coming in, Beyond Key ensured to be able to cut costs to keep making money. This was done by lowering costs, renegotiating contracts, and looking for ways to make things run more smoothly. Beyond Key increased both their staff and revenue by over 40% because of the reliability of their business approach. Their long-term goal is to double their size by 2023. Multiple new locations for Beyond Key were launched in 2022.
Lastly, Beyond Key invested in technology and automation to improve its operations and make them more competitive. This helped them cut costs and work more efficiently, making more money even when the economy was bad. An effective risk management plan also made it easier for Beyond Key to hire great people. Companies with a well-known track record of long-term success and stability are more likely to be able to hire the best and brightest workers.
Overall, a stable business model is vital for a company's long-term success and can help it get through tough economic times. Even when the economy is terrible, companies can still grow and do well if they have multiple sources of income, build strong relationships, cut costs, and invest in technology. Also, a stable business model has the potential to be a crucial factor in growth and hiring. Even when the economy is bad, businesses can still invest in growing their operations and hiring new workers as long as they have a steady stream of income and a long-term view. Also, it might make it easier to hire great people looking for stable jobs with room for growth.
About Beyond Key:
Beyond Key has been providing software consulting services to clients around the world since 2005. Beyond Key has a team of 275+ domain experts in various cutting-edge technologies. Beyond Key is a Microsoft Gold Partner and recently endorsed as Great Place to Work (an industry's leading certification standard) for the third time in a row. Beyond Key is also a gold winner for the Company of the Year by Stevie International Business Awards, IT Service Provider of the Year by Titan Awards, and bronze winner of the Most Customer Friendly Company of the Year by the Best in Biz Awards.